a smashing arts soiree
PICA Rolls Up the Rug for Its Office Warming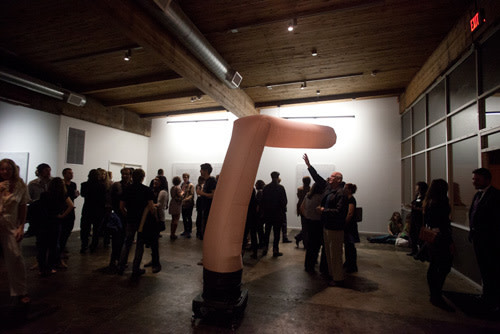 If Portland Institute for Contemporary Arts' coming year is anything like last night's opening celebration at its new building, we're in for an art adventure of epic proportions. From the kickoff at 6pm until well after closing at 10, the space was packed with a gradually shifting, glorious swath of folks, the median age dropping as the crowd transitioned from the getting off work shift to the Friday night party shift. Beer and wine flowed (thanks to two extra beer runs), finger-licking appetizers were passed around, Brooklyn artist Glen Fogel's painted love letters covered the walls, and his giant pink phallic carwash noodle with a painted-on face flapped above the crowd and poked at the rafters. In other words, it felt like your favorite night at the TBA Works.
"I had that anxiety that no one would come," said visual art curator Kristen Kennedy afterward. "Then I turned around and it was packed."
PICA kept the remarks short: executive director Victoria Frey, artistic director Angela Mattox, and Kennedy spoke about the space, Fogel's installation, and a preview of what's to come in the spring (mark your calendars for two big deals: a May 15 preview by the deliciously transgressive Big Art Group of their TBA collaboration with Portland artists and a June 21–24 visit from legendary San Francisco choreographer and provocateur Keith Hennessee and his company for a series of workshops, lectures, and in-progress performances).
Then, as DJs New Dadz started up the turntables at 8pm, the rug was literally rolled up in the library space and the dancing began. That folks felt comfortable enough to turn a library and an art installation into a house party bodes well for PICA's desire that the space provide a platform for artistic dialogue, both locally and globally.
And what a space it is. Having lived in the Wieden+Kennedy building since 2000, PICA's been confined in what amounts to a corner. Now they have the entire top floor of the long-empty iconic midcentury building at 415 SW 10th. You know the one: big colorful panels on its façade, sandwiched between the Ace's Cleaners space and the Pita Pit. They've done minimal buildout (it's remarkable how the right lighting can turn raw, textured concrete into the most beautiful of canvases). The 5,500 square feet floor is divided into open office space in the front ("Coming from cubicles, we originally made Victoria put in dividers," said communications director Patrick Leonard, "but then we hated them, and took them out. Now I look up and see someone staring at me. I love it."), the Resource Room collection in the middle, and then a wide-open events/exhibition space in the back. The currently off limits 4,500 square foot roof deck at the back makes me drool with dreams of summer evening performances (or Guantanamo Baywatch Slip-n-Slide beach parties).
Then they've turned the second floor into a temporary installation space, taken over by Fogel's videos of his female relative's spinning rings. It's a complex, meditative experience, but I'll save that for another post.