byzantine vocal ensemble killed the radio star
Portland's Cappella Romana on NPR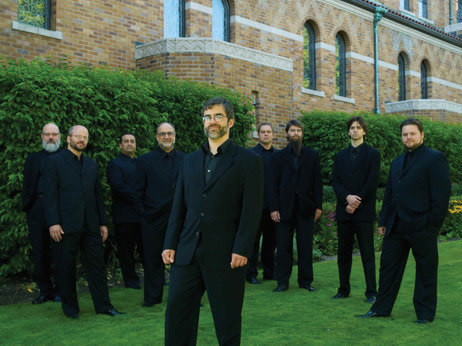 NPR's Weekend Edition Sunday marked the Eastern Orthodox Easter with a story about a new exhibition at New York's Metropolitan Museum: "Byzantium and Islam: Age of Transition." Portland's own internationally recognized vocal ensemble, Cappella Romana, opened the exhibition with a concert of medieval Byzantine music, and NPR focused their story in large part on the group, giving their sublime voices extended play. From the story:
Lingas says it's essential to remember this music is a living tradition that connects the far-flung roots of early Christian history to today.
"You have types of scales and ways of singing vocal ornaments that are not what Western classical singers are used to doing," Lingas says. Instead of standard Western vocal technique, he and his singers use a different vocal placement, a more Eastern-sounding vocal timbre, and what he calls "the same notes but with a few added little twiddly bits in between."
The ensemble recently released their new album, Mt. Sinai: Frontier of Byzantium, but it's even grander to hear them live. Either go for a fancy Byzantine meal and intimate performance at their A Taste of Byzantium benefit event at the University Club of Portland on May 12, or head to their Be Radiant, O Peoples! concert on May 19 at St. Mary's Cathedral.
For more about Portland arts, visit PoMo's Arts & Entertainment Calendar, stream content with an RSS feed, or sign up for our weekly On The Town Newsletter!