making science sexy
Win Tickets to Radiolab + Interview with Jad and Robert
Radiolab performs two live shows Friday and Saturday at the Keller with Pilobolus Dance Company, comedian Demetri Martin, and musician Thao Nguyen. Co-hosts Robert Krulwich and Jad Abumrad tell us what it's all about.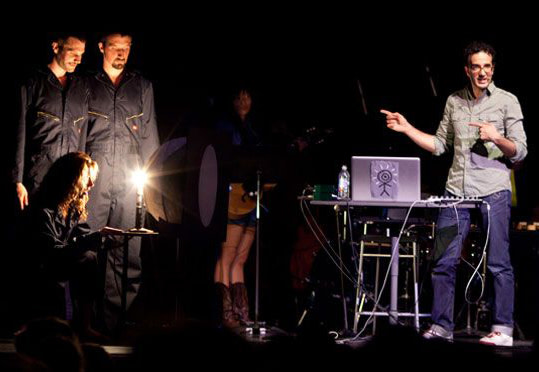 This contest is now closed. Please sign up for our weekly On The Town Newsletter to learn about future contests.
Jad Abumrad and Robert Krulwich co-host WNYC's making-nerds-sexy program Radiolab (carried nationwide on public radio stations, including OPB), a show that combines storytelling, music, and unwavering curiosity into sonic adventures that explore science and the human experience. Its fans think it's brilliant, and so does the MacArthur Foundation, which recently awarded Abumrad a genius grant. Lucky for Portland, we're one of the few cities to which Radiolab is bringing its new live show, "In the Dark," complete with a comedian host, live music, and a troupe of dancers. They're performing this Friday and Saturday at the Keller Auditorium. Saturday is sold out, but tickets are still available for Friday and run from $35.50–$61. I asked if they'd be willing to give a pair to a Culturephile reader, and they kindly obliged.
Also, this just in: Radiolab added a student discount. Students with ID can get 50% off through the Box Office or online through Ticketmaster with the code EYEBALL.
On to the interview, which I should preface with the disclosure that I've reported a number of stories for the show.
For each episode, you pick a basic concept of life, like Laughter, Race, or Choice, and then lace together a tapestry of stories, interviews, sound effects, and music that delve into the science and philosophy of that concept. What's the theme of the live show? And will you just sit on stage pushing buttons?
Robert: It's called "In the Dark." Jad: In the dark is where sexy time happens. It has that connotation. Robert: But we're not doing that. What we're doing is our fantasy idea. This will involve: a comedian, Demetri Martin, who is the host; a live score by Thao Nguyen; and a team of dancers from Pilobolus. We're going to take you on three adventures with musical breaks and funny stuff. It's a variety show.
Jad: The great thing about a live situation is we can make it into an experiment. The first part experiments with what it's like to emerge out of darkness from a tiny primitive eye into a full-blown eyeball. The second experiments with what it's like to be blind. And the third part experiments with what it's like to float through space and almost get fried by the sun. Robert: Through inky darkness.
That's a lot more ambitious than your first live show that you took to Seattle last year, which consisted of the two of you, a fancy sound box, and musical interludes by cellist Zoe Keating. What was it like to collaborate with musicians and dancers?
Jad: In the past our live shows have always been a derivative from the broadcast show. Like, come sit in a live theater and watch us mime the act of making radio. This is a different beast. We created it for the stage.
Robert: The collaboration was the fun part. For example, we tried to figure out how to show the audience what it was like to evolve an eye, how does an eye start, and why do eyes have different shapes? And the Pilobolus dancers were endlessly inventive. One of them went to a Japanese paper store and bought those spherical lampshades, put eyeballs on front, built carriages to put them on the dancers, and suddenly eyeballs were dancing around us. Jad: That's never happened to us before. This felt like a big posse of people throwing ideas, and what emerges is a different Radiolab than anywhere else.
Robert: At one point somebody is dangling in space from a Russian spaceship, and the dancers actually create the image of someone dangling through light tricks and odd postures. You see what they're doing, but you forget, and it's like they're in outer space. What they came up with was sophisticated and strangely beautiful. The ending we hope is gasp worthy. Jad: The first time we saw the ending, it was a gasp from Robert and I.
Normally, when you're making the show, you're in a little dark room with each other and a producer or two. What is it like to transition to a live audience of 2000 fans?
Robert: For me, this began as an adventure between two people, and it stayed small and particular for a very long time. When you go into these halls, it's not small anymore. I keep looking out of the corner of my eye to make sure Jad's there.
Jad: This is something I haven't thought about, but a funny thing happens right before we go on and after we come off, when Krulwich and I are standing in semi darkness, and in that moment, it feels like it's the beginning again. We're two free-floating particles going out together against the universe. Then the next moment somehow our friendship is inhabited by 2000 people. It has this oscillating quality where it feels small, and then it expands to infinity, then we walk off and we're back into the original point. If Krulwich sprains his ankle going on stage, we have no show. It's us against the world, but also us with world.
And being live opens the door to shit going wrong. Like at the start of your Seattle show last year, your computer wouldn't work, and you froze.
Jad: In that moment, I felt like Robert and I were floating through space. Robert: I couldn't understand why Jad didn't start to cry. Jad: It was a dissociation moment. There I am on stage, look at me, sitting there, pushing buttons, and nothing's happen. What a funny little man. Robert looks to me and says, "we could just go away and pretend this wasn't happening." But at this point, short of one of us bursting into flames, we can handle it.
Robert: That'd be interesting; I'd just get a hose.
I was shocked by how rowdy your Seattle audience was. Every time you said the name of astrophysicist Neil deGrasse Tyson, the crowd erupted like Justin Bieber had walked onstage. Did you ever imagine going into radio that one day you'd be a rock star?
Jad: The first five years of the show, people heard it from time to time, but I felt largely ignored. That state of being ignored feels like the resting state, so it feels like walking on the moon when someone comes sprinting across the lawn to tell you they love the show.
Robert: If I told you, I have a great idea: let's have two guys talking about biology, chemistry, and physics in dense ways, you'd say that sounds like a terrible idea. It's a miracle that there's an appetite for it, and a great honor to have started the conversation.
Off the top of my head, the stories you've done that involve the Pacific Northwest have been about transgender mayors, serial killers, and sperm. Is that all we are to you?
Robert: That's all you've ever been. I remember sitting around talking about the Pacific Northwest with Jad and saying, 'lets think of three things, and then we're done with that part of the world.' Two of them were by you by the way. You should branch out and look at tackle football players finding god or something.
Touché. I don't know if it was your last time in Portland, Jad, but we did spend a weekend in Silverton hanging out with the transgender mayor, Stu Rasmussen. Was there a takeaway from Portland or Oregon for you that weekend?
Jad: Portland's amazing. I remember we went and talked to one of the most inspirational people we've ever had on the show. We drank tons of amazing coffee. I did a singles event where I bumped into the people who so fit the people we talk to on Radiolab. Portland feels like some sort of weird utopia, which is also troubling. It's like, when's the other shoe going to drop, when's the werewolf going to run out from behind the tree?
You mean Grimm?
Jad: That's filmed in Portland?! That makes total sense.
For more about Portland arts, visit PoMo's Arts & Entertainment Calendar, stream content with an RSS feed, or sign up for our weekly On The Town Newsletter!