ballet noir
Review: OBT's Chromatic Quartet
Four performances from contemporary to classical ballet, from dark-edged sexiness to sublime meditation. Through April 28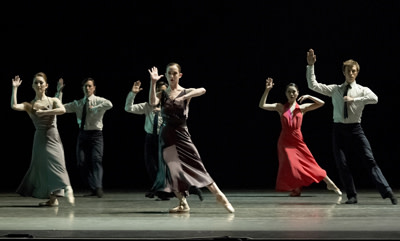 Stage lights shine down with harsh, fractured, noir-like geometry on a ballerina in a gorgeous cocktail dress splayed on the stage like the victim of some glamorous nightclub murder. Male dancers in finely tailored shirts and ties roll and drag themselves across the floor. It would seem sacrilegious to see local high-end designer Adam Arnold's hand tailored clothes put through such motions if the performance wasn't so damn sexily brilliant.
Rarely do I watch something on stage and, upon its end, wish I could hit rewind and watch it at least two or three more times, but such was the case with The Lost Dance, the second performance in Oregon Ballet Theatre's spring program, Chromatic Quartet, running through April 28 at the Newmark Theatre. Choreographed for OBT by the Canadian dancer Matjash Mrozewksi to original music by electronic composer Owen Belton and with classic, Mad Men-era costumes by Adam Arnold (see our interview and slideshow), the piece oozed elegance and grit, full of acrobatic choreography that mixed contemporary with Latin handclaps and a certain Bob Fosse flair to feel like an intoxicating nightclub dream. All of the dancers were exquisite, particularly soloist Lucas Threefoot, who opened the piece, and small-framed Javier Ubell, whose movement flowed like smoky bourbon swirled neat around a highball.
The four performances in Chromatic Quartet ran the gamut from cutting edge contemporary to classical ballet, from the dark edged sexiness to quietly contemplative, and showed that our home ballet company is just as skilled and provocative as any of the international companies that come through town.
The other stand out for me was Liturgy, created by "ballet's golden boy" Christopher Wheeldon, who we were informed was just inducted into the American Academy of Arts and Sciences "alongside Hilary Clinton and Clint Eastwood," to music by Arvo Part performed live on violin and piano. Masterfully danced by Haiyan Wu and Brian Simcoe, the pas de deux shifted with the minimalist score from quick, athletic dance to slow, floating movements, some of the partner work hovering close to acrobalance. It was a sublime meditation that balanced out Lost Dance's heady rush.
The show closed with an intriguing piece, Lambarena, choreographed to composer Tomas Gubitsch's musical homage to the legendary missionary and Bach organist Albert Schweitzer. The score combined orderly Bach melodies with polyphonic, polyrhythmic music of Gabon, and it's remarkable how well the two musical forms played together, violin progression underpinned by exuberant drums and singing, sometimes one fading out to let the other shine. And just as the music was a mashup, so too was the dance—orderly ballet and pointe mixing gracefully with the more free and ecstatic movements of African dance. The funny little powdered wig ponytails pinned to some of the male dancers aside, the piece was a joyous exploration of cultural collaboration and complementation, whose occasional solemn and almost foreboding moments even allowed room for some of the troubling colonial underpinnings.
Finally, the opening performance, Stravinsky Violin Concerto, was late Balanchine. Though well executed, I must admit that it was most interesting for me in the way that you could see his influence seep through in the other pieces. For instance, the way the dancers' arms intertwined in Liturgy could likely trace its genesis back to Balanchine. But I imagine there might've been those in the audience who found Lost Dance too edgy, and for them there's Balanchine, making for a well-rounded night of dance.
For more about Portland arts, visit PoMo's Arts & Entertainment Calendar, stream content with an RSS feed, or sign up for our weekly On The Town Newsletter!