political theater
Review: The American Pilot
Theatre Vertigo presents an incredibly perceptive play on the complex moral conundrums of war.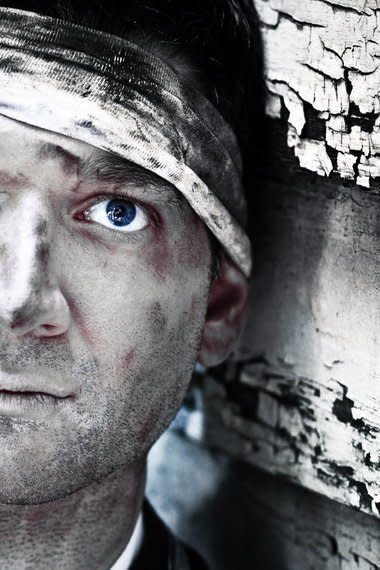 THROUGH APRIL 28 Try as they might, few dramas—and even fewer political plays—manage to show all sides. While the opinions dearest to the dramatist get fully developed, opposing forces on all flanks are too often conceived as two-dimensional foils beside which the lead characters' views are brightened. Not so for David Greig's The American Pilot from Theatre Vertigo , which gives equal weight to all factions of "the enemy," from innocent farmers to a blood-stained, besieged regional warlord.
"Another political play?" regular local theatergoers may whine, having recently been read the riot act for moneyed liberal hypocrisy in Third Rail Rep's The Pain and the Itch, or seeing PCS's The North Plan twist a doomsday scenario into uproarious bipartisan slapstick, with a Skynyrd fan and a gay New Yorker teaming up to stick it to the CIA. Well, The American Pilot has another entirely different take, a decidedly flinching look at modern warfare that articulates competing crises of conscience for all sides.
The title character, a crashed, wounded navy pilot, is rescued by villagers in a deliberately unspecified nation that America is bombing. Given lodging and then held hostage in a barn by a local farmer, he observes but fails to comprehend the conversation that his presence inspires. (Though the whole play is in English, clever stage cues help the audience understand the scenario as bilingual.) But a language barrier is nothing compared to the ideological divide between a free market capitalist and a bartering low-tech society.
Through expository monologues between scenes, the characters contextualize themselves in the overall struggle. "I am the captain," bellows the local resistance army commander (Gavin Hoffman). "When I come to a village I bring money. I speak to the farmer about his crops, I know the name of his oldest son. I always wear sunglasses." At turns ruthless and benevolent, he's installed himself in a way that occupying troops cannot, inspiring both fear and gratitude among his people from point-blank range. Still, he's haunted by his own losses and nagging concerns about whether a middleman can really impact world affairs. This portrait of a "terrorist leader" seems incredibly perceptive, and explains some things Westerners—keen to target such a figure—tend to misunderstand about such climates.
We also meet the pilot's hosts: a stoically religious, longsuffering wife (Brooke Fletcher); a starry-eyed Western-TV-watching teen (Britt Harris), and a sincere but irresolute farmer (Gary Norman)—and we observe that this family has its own regionally imposed concerns, like crop loss, marriage arrangement, barter for safety and favors, and now the fear that their humanitarian impulse to help a wounded man will ultimately be repaid by more bloodshed.
A fixed point in a morally tumultuous world, the pilot himself (Mario Calcagno) embodies universal suffering, but also a uniquely American mix of congeniality and entitlement. Likable, enviable and pitiful all at once, he hopes for the best while his captors (secretly marveling at his movie-star handsomeness and his fully-stocked iPod) discuss "doing the right thing." That very phrase (echoing Spike Lee), gets plenty of play in Pilot as wildly different plans are proposed. Beautifully and sensitively inhabiting torrid turf, Theatre Vertigo delivers a visceral good-samaritan stunner, an immersive experience that defies any glib summation. What is the "right thing" to do? It just depends who's asking.
For more about Portland arts, visit PoMo's Arts & Entertainment Calendar, stream content with an RSS feed, or sign up for our weekly On The Town Newsletter!