cabaret comedienne superstar
Win Tickets to Grammy-Winning NYC Chanteuse Lady Rizo
The Oregon prodigal daughter returns for two blowout nights at the Star Theater on April 24 & 25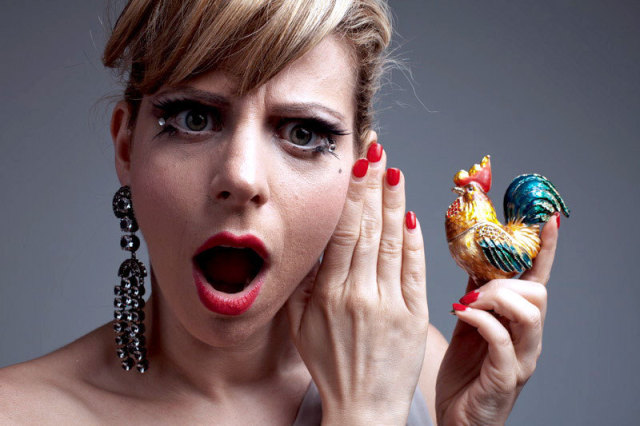 I'll say this as bluntly as I can: Lady Rizo is consistently one of NYC's best night's out. She's got pipes that can go from a Nina Simone warble to a Janis Joplin belt, but just as entertaining is her wit—sharp as diamonds, dirty as coal, and all gussied up like glittering false lashes on a drag queen. And she's got the chops to boot: a Grammy for her duet with legendary cellist Yo-Yo Ma, appearances on Moby's albums, choreography credits for Debbie Harry and others, and for the last couple years, she's been the Mistress of Ceremonies for The Darby, a decadent West Village supper club where she regularly entertains folks like Prince, Beyonce & Jay-Z.
A native Oregonian, Rizo's act shares some commonalities with Portland's house songstress, Storm Large: both are bawdy, sexy gals mixing loungey covers of pop hits with some of their own songs. But whereas Storm veers to the grunge, punk, and rock and roll, Rizo goes classy and campy sophistication, mixing jazz standards and her own writing with hilarious, smokey reinterpretations of songs like "Blame it on the Alcohol" and "Toxic."
She's playing two shows at the Star Theater on April 24 & 25 at 9pm, $15 in advance and $20 at the door.
This contest is now over.
And if you're lucky, she'll invite you onstage to help with her costume change behind a screen while she asks you on mic how you lost your virginity. Contest closes Friday at 5pm.
One of her originals, Dominika:

A proper Portland mashup: "Poker Face" + polka beat = "Polka Face"