grab your pompoms, girls!
Bring It On: The Musical Goes to Broadway Courtesy of Oregon-born Theater Wunderkind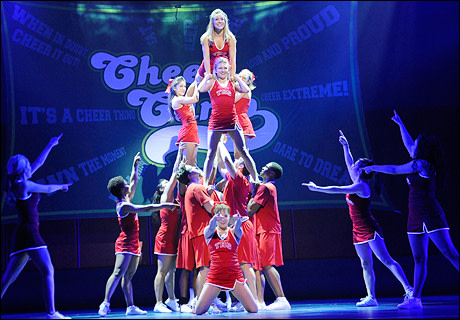 Don't say Oregon don't play on Broadway. Coos Bay born and raised theater boy Jeff Whitty, who won a Tony for his book to the pervy puppet musical Avenue Q, is going to take home his second Broadway credit with the announcement today that Bring It On: The Musical will open on August 1. The musical, while set in the world of competitive high-school cheerleading, is a "free adapatation," meaning it doesn't share any of the characters or plots from the movie. While we might lose imminently quotable lines like, "Follow me, or perish, sweater monkeys," given Whitty's pen, you can expect hilarity that is equally smart and just as dirty. And with real cheerleaders in the cast, there's no end to the high flying shenanigans (and these girls don't need wires, Julie Taymor). The promotional video makes the gymnastics and dance look, um, amazing.
Or as they chanted at my backwaters high school in the 'Couv:
"Peel it to the left, peel it to the right, stand up, sit down, huh, take a bite!"
This from the New York Times:
Broadway producers rarely open new shows in summertime, when tourist-dominated audiences in New York are biggest for long-running hits, but a new musical comedy is moving into the St. James Theater in July: "Bring It On," a takeoff on the battle-of-the-cheerleaders movie from 2000 starring Kirsten Dunst. The show will start previews on July 12, direct from a 13-city national tour — a rare example of a production that played in Los Angeles, Houston, Chicago and Toronto before coming to New York, where musicals usually begin before going out on the road.
For more about Portland arts, visit PoMo's Arts & Entertainment Calendar, stream content with an RSS feed, sign up for our weekly On The Town Newsletter, or follow us on Twitter @PoMoArt!