the tweet of the big foot
Culturephile is at Sasquatch. Follow us at @pomoart!
No crowds, no $8 bottles of water…it's even better than the real thing!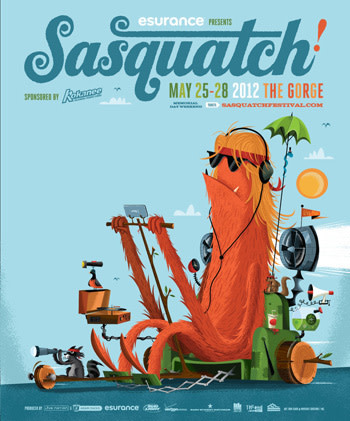 Culturephile's musically voracious events editor Anne Adams and unstoppable music correspondent Stephen Person arrived at Sasquatch on Friday and have been running from show to show catching the best of national and Portland acts (and all the banter and ridiculousness in between) for those of us not able to go. Stuck in Portland but want to sound like you were there around the water cooler on Tuesday? Follow their adventures on Twitter at @pomoart.
Here's a sampling of the last few days:
After traffic, tents, beers and bathroom breaks, @PoMoArt is on the trail of #Sasquatch. Follow us into @PrettyLights
Best @Sasquatch costume so far: Twin Fraggles!
@PrettyLights beat just "jackhammered," so we know we've reached the zenith. @sasquatch
#Sasquatch! may bring the best new bands, but in the campground, #Sublime still reigns supreme.
In the midday sun, STRFKR stirs jelly legs & hands raised with their cover of Cyndi Lauper's "Girls Just Want to Have Fun." @shebop_aka_cyn
@strfckr conjures memories of @pdxpop past. True Portland originals. #sasquatch
"The craziest stuff happens in Yakima." Blitzen Trapper shares regional pride. #Sasquatch!
@BlitzenTraper is smokin' on stage. Both figuratively and literally. Now for a song for a Saturday night… #sasquatch
Fred and Carrie claim no one reads anymore except on twitter. Agree, or disagree? #portlandia #Sasquatch! @eden_dawn
Epic echoey precision pop emanating forth from just two Portlanders, aka, @HelioSequence ! #Sasquatch2012
Overheard: One guy to the other: "This isn't @HelioSequence, I've seen them," as they walk away from @HelioSequence …
Does anyone else think St. Vincent looks like Madonna? #Sasquatch!
Raver types are swarming around Wolfgang Gartner, a beeping, flashing midi dance alarm clock loud enough to wake our ancestors. #Sasquatch
Jack White looking natty in a black suit w white pin-stripes… Ah-ha. We get it, you clever devil. #Sasquatch
Wondering if Jack White custom-ordered the eerie crescent moon hanging over the Gorge. #Sasquatch
#TheRoots showing their amazing versatility covering: Sweet Child o Mine, Bad to the Bone, and even a little Beyonce. #Sasquatch
just sayin'…@theroots gave @girltalk a run for his money as Maestros of the Mash-up…. #Sasquatch
Crowd cheering for @blindpilot is pressed close to the stage and surprisingly screamy…nearly hysterical. #Kidslovefolk #sasquatch
For more about Portland arts, visit PoMo's Arts & Entertainment Calendar, stream content with an RSS feed, sign up for our weekly On The Town Newsletter, or follow us on Twitter @PoMoArt!