gallery grazing
First Thursday Sampler
There's a strong theme, both playful and troubling, running through a number of shows this month involving technology, the digital world, and how it ties us together (or just as often separates us). So make sure to check in at the galleries on Facebook and post some shots to Instagram so that all your friends around the world can enjoy your arty exploits while the friend standing right next to you wonders why you just zoned out of the conversation to check your Twitter feed about the conversation you're having at an amazing gallery exhibit in Portland. I'll make sure to 'Like' it.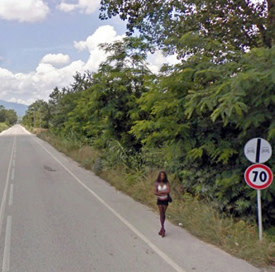 Photo: Digital Connections
Mishka Henner's No Man's Land + Nate Larson & Marni Shindelman's Geolocation: UK at Blue Sky Gallery
This month, Blue Sky's two intriguing exhibitions explore the intersections of art and our increasingly digital world. A number of artists are mining the all seeing eyes of Google Street View for their work, but likely none to more interesting effect and social commentary than Mishka Henner. For his exhibition "No Man's Land," he first searched online forums for public prostitution sites in Italy and Spain and then looked at those site in the GSV archives, finding both urban and rural images of what appears to be women soliciting sex for money. Blue Sky is the first US exhibition of his photographic prints and video installation that has been gaining international attention and controversy over the question of does his work qualify as photography, documentary, or something else entirely (read an interview with Henner about it). And then Nate Larson and Marni Shindelman plumb the sense of loneliness that paradoxically seems to feed off our increasingly connected lives by photographing UK sites they identify from the locations of Tweets.
Artist talk by Marni Shindelman on Saturday, May 5 at 11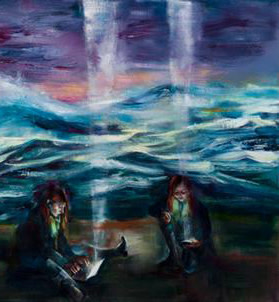 Painting: The Alienation of Connection
Laura Ross-Paul's Connect at Froelick Gallery
People surrounded by friends, breathtaking natural settings, or momentous events like fireworks—all the hallmarks of a well-lived, connected, social life—choose instead to bath in the light of their cell phones and laptops in Laura Ross-Paul's paintings. Illuminating the almost religious fealty we pay to our personal devices, Ross-Paul gives the devices the same glow painters of the past reserved for halos and angels.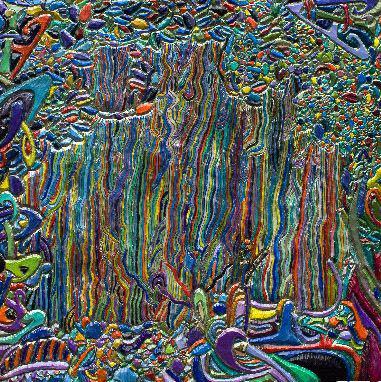 Painting: Even Better Than the Digital Thing
Tom Cramer's New Work + Jackie Johnson's Recent Paintings at The Laura Russo Gallery
The well-known and prolific NW artist Tom Cramer carves and burns into dense pieces of wood, upon which he then paints or inlays with enough gold or silver leafing to pay a small ransom. The results are the tactile versions of what digital art yearns to be: complex plays of symmetry and chaos, color and depth, nature and technology. They're the transcendental type of work you can get lost in. Jackie Johnson's equally colorful paintings explore the complexity of urban life in the 21st century through abstract imagery. Skyscrapers, ladders, bridges, and what look like parking meter people are made up, like stained glass, of vibrant triangles and squares.
Artist Talk by Tom Cramer on Saturday, May 19 at 11am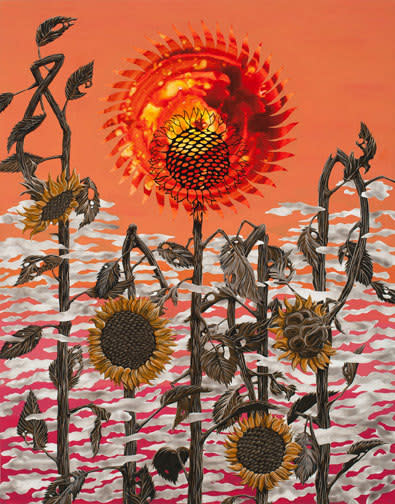 Painting + Glass: Post Digital (and Birds)
Ryan Pierce's New World Atlas of Weeds and Rags, New Paintings + Deborah Horrell's Celebrating Beauty at Elizabeth Leach Gallery
Ryan Pierce's paintings capture small, seemingly post apocalyptic natural moments in a world ruined by technology—deer grazing inside broken, overgrown houses and tarps strung in dead trees on a dry Earth called "Fog Collectors." His colors and perspective simultaneously create an amazing flatness and sense of dimension. Birds, bones, and shells intermix in Deborah Horrel's glass sculptures and installations—some two dimensional, others beautiful opalescent bird busts—evoking fragility, flight, sorrow, and grace.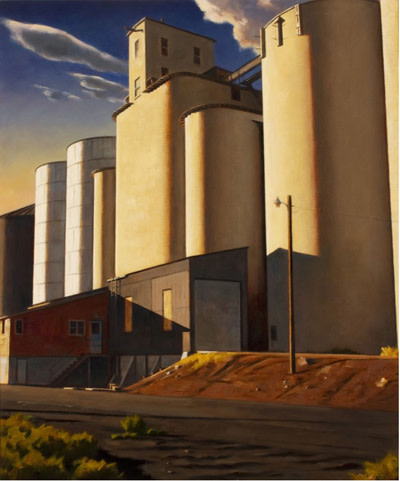 Painting: Modern Oregon through

WPA

-era Eyes (For Those Who Want to Ignore the Digital Revolution)
Daniel Robinson's Now and Then at Charles A. Hartman Fine Art
Influenced by social realists such as Grant Wood, Thomas Hart Benton, and Edward Hopper, Fossil-based artist Daniel Robinson's paintings depict rural Oregon subjects ranging from bucolic farm to aging grain silos. With azure skies, vibrant pastures, and golden light, the images depict the footprint of humans without any actual humans in the paintings, seemingly capturing some deeper spirit of the land and the state. Watch an Oregon Art Beat episode about Robinson.

The First Thursday art walk is a monthly event held by an assortment of galleries in Portland's Pearl District. For more about Portland arts events, visit PoMo's Arts & Entertainment Calendar, stream content with an RSS feed, or sign up for our weekly On The Town Newsletter!