5 questions for...
Interview with Brent Knopf of Ramona Falls
New album Prophet is out now Interview by Brandy Crowe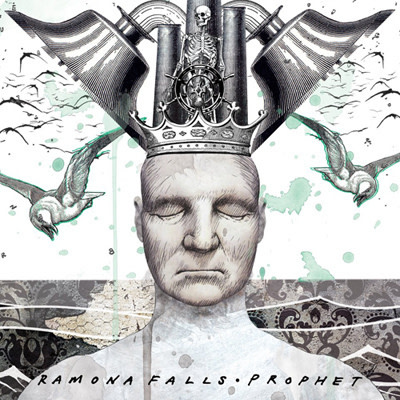 Ramona Falls released its second album Prophet this month. Multi-instrumentalist Brent Knopf originally started the band as a side project from his main gig in local powerhouse Menomana, releasing the debut album Intuit in 2009. But with his departure from Menomana, he's given Ramona Falls his full attention and innovative spirit (he did, after all, invent his own digital loop recorder, called "The Deeler"), which are fully apparent in the album's complicated, electronic looping and layering of classical and pop elements. Tall, boyish, and amazingly polite, Knopf took a few minutes before heading off on a US tour to speak with Culturephile about the new album, multitasking, and his musical influences and upbringing.
Intuit was considered a side project of Menomena. How have things changed now that you're focusing full attention on Ramona Falls, and what effect did that have on the album?
Prophet has more energy, more synths, more electric guitar. It's less acoustic than Intuit, and every song has a bridge—its own little section. Also the way it was recorded is a little different. The first record included about thirty-five other artists that contributed in the recording process. This time it was much more of a band with just a handful of guests. Right now, Dave [Lowensohn ] is in 3 bands, Paul [Alcott] is in like three and a half, and Brandon [Laws] is in two. So we have four people in like 10 bands between all of us.
Paul Alcott plays with the band but is also your replacement for Menomena?
For the last two years he has been the drummer for Ramona Falls, and then he stepped up for Menomena. When Menomena goes back on tour, it's unclear to me if he will still be able to drum for us.
What about you, then. Is Ramona Falls your only band right now?
It is [laughs]. I'm doing this crazy experiment in monogamy right now. Between the last Menomena record, Mines, and Ramona Falls's Prophet, I had the opportunity to produce two records: one by Dear Reader called Idealistic Animals, and one for Matt's Band Lost Lander called DRRT. It was a lot of fun, but I began to think, aw crap, I really need to keep focused on Ramona Falls. So for about eight months that was my task to get the second album going.
Can you talk a little about the themes of the album? Many songs incorporate ideas of philosophy, math, and science, in addition to being highly emotional and somewhat dark.
Sometimes I try to figure out things that confuse me by reframing the question in several different ways. To get the answer, I will try to borrow from things that are not traditional music fodder. Like the song "Dividing by Zero" expresses the idea of a displaced continuity—a break off from something, an experience where you just stop because something doesn't compute anymore, doesn't work anymore.
The song "Spore" is about my admiration for people who are confronted with undesirable choices, but go deeper into the nature of the choice to create new choices and a deeper understanding. Honestly, it's kind of a love song about trying to figure out how to make an impossible love possible. About hacking the rules of the game to make it work.
"Brevony" is a heavier song about a saboteur. I find it a fascinating dichotomy that oftentimes the people who are really good at playing the victim are actually the worst of abusers and manipulators, and I was investigating the story of protagonists and treachery. On the other side, it is a song about metal, not just that it's a heavier song on the album, but the element of metal. I come from a long line of metal workers.
There's so many layers to the album musically speaking. Who are some of your influences?
Well…"Weird Al" Yankovich, for the love of pop music. When I wasn't allowed to listen to some of the pop lyrics of mainstream music, like "I Think We're Alone Now" was too racy, but I was allowed to listen to "I Think I'm a Clone Now." There is also this older band from England that no one has heard of called The Homosexuals, some old Blonde Redhead, Erik Satie, and my mom, who is classically trained in opera and is a musician and a teacher. There was a piano in the house. When I was sixteen, I found her classical guitar, and I had never played before. I noticed the intervals between the notes, like between the A and the E, and the E and the G, was a fourth. I thought it was fourths all the way across, so I re-tuned it all bizarre and learned to play by ear my own way.
While we wait in high anticipation for music videos for Prophet, if you haven't already, check out the mind-bogglingly amazing animated video to "I Say Fever" from Ramona Falls' first album, Intuit, along with the equally creative video for "Russia."
For more about Portland arts, visit PoMo's Arts & Entertainment Calendar, stream content with an RSS feed, sign up for our weekly On The Town Newsletter, or follow us on Twitter @PoMoArt!