album of the week
Listen to What Hearts Debut Album
Hear the album now on OPB , and plan to see them at Mississippi Studios on Sunday!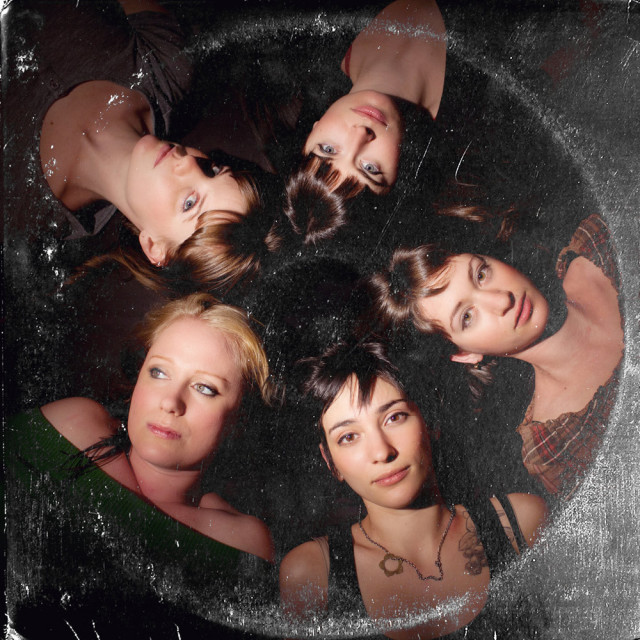 Five Women
Culturephile first caught wind of What Hearts about two years ago at the Woods. As they wrapped up a very promising sound check, filling the still-empty room with sparkle and harmony, an incoming patron actually remarked, "Ohmygod, I love all-girl bands! Do they all have cute fake names too?"
No. And shut up.
Yes, they're real pretty (see graphic, left), but Julie and Sophie Vitells, Sarah Fennell, Karin Nystrom and Courtney Sheedy also keep it pretty real, using lush, wafty arrangements laced with emotive fiddle, bouyed by echoey guitar, and strung along a clean clothesline of stream-of-consciousness storytelling.
Female Simon & Garfunkel?
OPB's comparison of What Hearts to Simon & Garfunkel seems a stretch, as none of these melodies match the hook-power of a "Cecilia," the intimacy of "The Sound of Silence," or the credible world-weariness of "Keep the Customer Satisfied." That said, to make such a comparison in the first place seems unfair. A local debut record's tensile strength should never be tested against Bridge Over Troubled Waters; in that scenario, almost all would drown.
Apter (and still plenty positive) comparisons might include Beach House, Belle & Sebastian—or, further back, Nico, Helium, or Fairport Convention.
Ignoring both the apparent overhype and the inevitable beauty backlash, take this record on faith, and enjoy it for what it is: A beautiful debut with enough character and craft to establish WH once and for all as credible players in the Portland scene. Also, the perfect accompaniment to a road trip or a rainy day.
For more about Portland arts, visit PoMo's Arts & Entertainment Calendar, stream content with an RSS feed, sign up for our weekly On The Town Newsletter, or follow us on Twitter @PoMoArt!