twitterdelic
Live-Tweet Review: Candide
Opens at the Keller on Friday.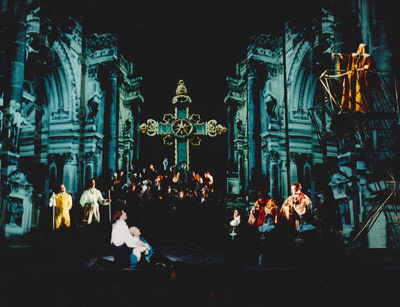 Last night, the Portland Opera invited a gaggle of comic book artists and media/blogger/writer folk to draw and live-tweet the first dress rehearsal for Candide, which opens on Friday. They billed it as "Eat, Tweet, Drink, and Draw" (offering the lure of pre-show beer and wine). I have to admit I was a little hesitant. I don't think it would've worked so well with Madame Butterfly, say (MB's waiting…waiting some more…still waiting…). But it was a total hoot with the psychedelic, sex-filled, comically violent travelogue that is Candide, with its sheep made of gold, balloons powered by LSD, and songs about venereal disease. We had a great time racking up the frequent flyer miles as Candide crossed the globe and keeping track of the death count (but don't worry, everyone inexplicable comes back to life).
All in all, the production was technicolor and entertaining, the music catchy and in English, and the performers skilled at singing and comedy. In other words, it's the perfect show for the hesitant opera virgin.
Portland Opera has compiled everyone's tweets and some of the drawings, which give a madcap recap of the night. Or you can read my Tweets (and follow us) at @PoMoArt.
Or if you want to see the show, you can get 50 percent off using the password GLITTER.
Here's a selection of some of my favorites:
Must admit I've never seen #pdxcandide. Told there's disembowelment and cardinal fornication. Curious how that differs from the normal kind.
Maybe cardinal fornication is 'a physical experiment into cause and effect.' Or could be offstage sexytime sounds by opera singers.
30 min in, and the death toll is 30,000 in a volcano, a sunk boat, and a slaughtered kingdom. It's like a Michael Bay movie.
Glitter and Be Gay, a song about jewels and champagne. Bernstein did Material Girl years before Madonna. #PDXCandide
_#PDXCandide is a medley of fabulous death scenes: swords, nooses, drowning, lava, disembowelment, oh my! _
Candide just skewered three critics with his sword. Gee, @portlandopera, not much for subtlety…
Director Mattaliano informs us there's in fact two songs about STDs, but they cut one. Abstinence only.
I hear Le Pigeon is serving maple glazed buttock profiteroles. RT @grantbutler: @ChelseaCain You went there, not me!
And drag! #pdxcandide is checking off its vices one by one. I wonder if the sheep backstage are for romancing…? http://via.me/-11zztds
'If you knew how lonesome it is to fondle old men…and gondoliers,' says paquette. Not sure I'd use the word 'lonesome.'
For more about Portland arts, visit PoMo's Arts & Entertainment Calendar, stream content with an RSS feed, sign up for our weekly On The Town Newsletter, or follow us on Twitter @PoMoArt!