a moving philosophy
Mizu Desierto'sDown-To-Earth Dance
Releasing the Local Culture Project documentary last Friday and prepping for the upcoming 1 Festival, Portland's premier butoh curator continues to preach dance-life integration.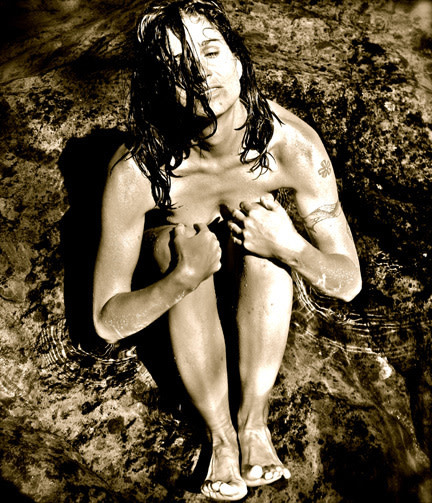 "Sometimes when I'm doing the dishes, I do a few pliés at the same time," confessed Mizu Desierto last spring on her farm during an interview with Portland Monthly . "Then I go out to the chicken coop and dance with the chickens—they're really fascinating! So inquisitive! So primal!"
Already in the throes of her year-long Local Culture Project at that time, the rigorously trained dancer had long since begun a conscious effort to reconnect with her environment via her dance discipline, butoh. What emerged as she and PSU program collaborators danced around Prior Day Farm was a new appreciation for the oft-overlooked essentials of life: food-growing, child-rearing, even a new view of simple textiles as much more than mere laundry.
"Look at this rag," she effused at the Headwaters Theatre premiere of the Local Culture Project Documentary after a post-screening performance where dancers used rags to mime a cleanup. "If you think about what this represents in terms of material and labor, about where this comes from…!"
Butoh, Mizu's dance discipline of choice, spans far afield from the domestic realm—a Japanese iteration of modern dance that rose from the mushroom cloud of WWII. As the visceral aftermath of the atomic bomb seared kimono flower patterns into women's skin and melted civilians alive, dance culture followed an understandable impulse to address both the sublime (angels, flowers, trees) and the grotesque (decay, disease, death), while honoring Japanese traditions from Kabuki and Noh theater (white paint, exaggerated facial expressions). The result? Ghostlike dancers covered in white paint, often locked in a deep state of trance, making inscrutable, sometimes jagged moves while they attempt to embody visions like "the walk of the flower" (from its seedling state, through its bloom, wilt, and desiccation).
Surprisingly, butoh artists like Mizu and her Japanese choreography mentors Hiroko and Koichi Tamano fully understand the challenge that their work poses to viewers: "When I first saw butoh, I said, 'What is this? So ugly!'" explained Koichi through a translator Friday, even mimicking a few grotesque butoh gestures. Mizu has also joked about it: "Modern dancers are the easiest thing to make fun of," she good-naturedly admitted to Culturephile.
Still, for those who can suspend disbelief and overcome a little aesthetic unease, butoh offers a rich, immersive experience with much to teach westerners about graciously surrendering to one's place in the life-cycle. Hence, we can't help but hotly anticipate Desierto's second annual 1 Festival, coming to the Headwaters later this month.
Meanwhile, between swigs of post-show sake, sexagenerian Hiroko Tomano spoke interchangeably about leprosy and blossoms, about touching the sky—and cleaning the floor.
For more about Portland arts, visit PoMo's Arts & Entertainment Calendar, stream content with an RSS feed, or sign up for our weekly On The Town Newsletter!