not even summer, and dreaming of fall...
MusicfestNW Announces Its 2012 Lineup
Passion Pit, Beirut, Girl Talk, and Silversun Pickups headline. Sept 5–9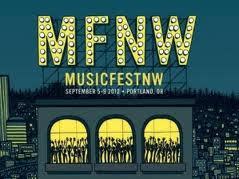 Willamette Week just sent out the lineup for MusicfestNW 2012, and, once again, we see some unbridled potential for epic musical adventuring spread over 5 days, 119 bands, and 3 nights at Pioneer Courthouse Square. And this year they're adding Portland Digital eXperience (PDX), MFNW's equivalent to SXSW's Interactive tech conference. (That said, if you just got back from Sasquatch, you might be a little bummed by the headliner overlap).
Without further ado, this from WW:
MusicfestNW is once again returning to the historic Pioneer Courthouse Square—Portland's civic living room—for three picturesque outdoor headlining performances at Levi's Pioneer Stage headlined by shoegazing alternative rockers Silversun Pickups (Sunday, Sept. 9), mashup superstar Girl Talk (Saturday, Sept. 8), and the world music-tinged indie folk of Beirut (Friday, Sept. 7).
Beyond the Square, MusicfestNW will once again take over the city of Portland for five days, with 150 bands playing at 16 clubs all over the city. On Wednesday, Sept. 5, electropop upstarts Passion Pit headline the Crystal Ballroom (the band also plays the next night) and reunited post-hardcore titans Hot Snakes play the Roseland Theater. The alt-country act Old 97's playing their seminal record Too Far to Care front-to-back, the beautiful folk tunes of The Tallest Man on Earth, local atmospheric rockers The Helio Sequence, local heroes Hazel reuniting for Cavity Search Records 20th anniversary show, rising hip-hop phenoms Yelawolf and Danny Brown, A-Trak DJing on the Nike Sportswear stage, and the debut of the Red Bull Common Thread series featuring guitar heroes Dinosaur Jr. with sets from the bands' two offshoots, Sebadoh and J. Mascis. The festival also features Critics' darlings Ceremony, Julia Holter, Lightning Bolt, The Men, Fucked Up, Trust, and The Pains Of Being Pure At Heart will all be performing special sets of over the September weekend.
Willamette Week is also proud to announce the debut of its very own tech conference to coincide with MusicfestNW. Portland has a rich and underrated tech scene, and in its first year, Portland Digital eXperience (PDX) will extend the MusicfestNW beyond music to embrace the technology and startup community by featuring conversations with leading thinkers, both local and from outside Portland. The event, held September 6-8, will focus on individuals who exemplify an "attention to detail, creativity, and the craft of building compelling experiences." Among the confirmed speakers are Aaron Draplin of Draplin Design Co., Evan Doll of Flipboard, James Keller of Walmart Labs, and Chris Teso of Chirpify.
Festival wristbands and tickets for shows at Pioneer Courthouse Square, Crystal Ballroom, Roseland Theater, and Aladdin Theater go on sale on Friday, June 1 via Cascade Tickets. For further ticket information, see musicfestnw.com/tickets.
You can view the full lineup here.
For more about Portland arts, visit PoMo's Arts & Entertainment Calendar, stream content with an RSS feed, sign up for our weekly On The Town Newsletter, or follow us on Twitter @PoMoArt!