portland music compilation of record
PDX Pop Now! Announces Its 2012 Compilation Album Lineup and Release Show
June 7 at Holocene with Sun Angle, Wild Ones, Hollywood Tans, Rose, DJ Porsche Cayenne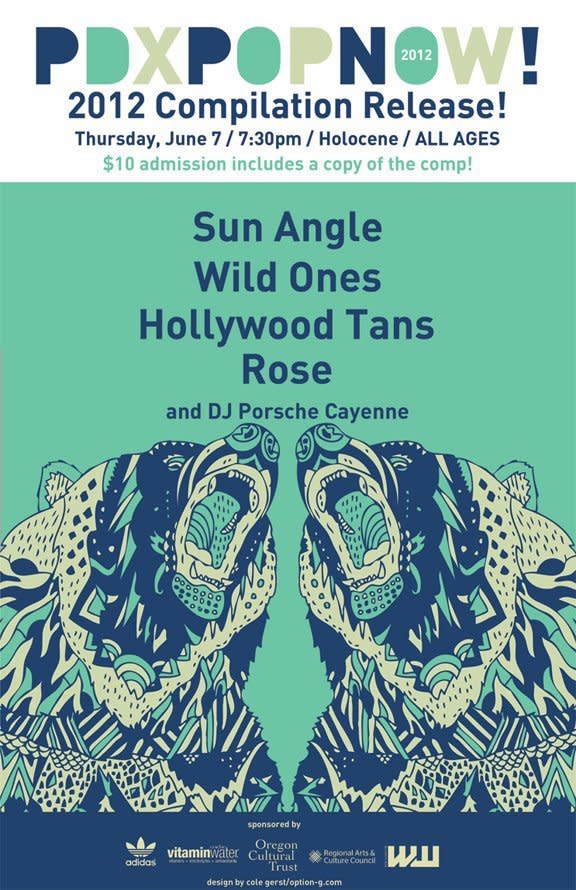 Sasquatch is kicking off the summer music festival season this weekend with the big names and big budgets, but you don't have to travel five hours for quality music festival lineups—not when you have PDX Pop Now! Portland's local-focused, all ages, free, little-festival that could (and does) recently announced the lineup for it's 9th annual, 2-disc compilation album, otherwise known as the Portland Music Compilation of Record (i.e. if you want the abbreviated history of the last nine years on the Portland music scene in easy two disc installments, you can do no better than tracking down the PDX Pop Now! compilations). As always, it's an excellent cross-section of what's seducing the sound systems across town and across the country, from national names like M. Ward, to tracks from sophomore albums by budding national names like Y La Bamba and Tu Fawning (read our review), to the recent winner of Willamette Week's Best New Band, Radiation City (along with runners up Pure Bathing Culture and Grandparents).
To celebrate, PDX Pop Now! is doing a CD Release Benefit on June 7 at Holocene with Sun Angle, Wild Ones, Hollywood Tans, Rose, DJ Porsche Cayenne. $10 will get you in and a copy of the compilation. And through remarkable OLCC wrangling, it's all ages.
And, of course, the actual festival will be held July 20-22 at Refuge PDX.
PDX Pop Now 2012 Compilation track list
DISC 1
1 Watch The Show – M. Ward
2 It's Real – Wild Ones
3 Super Blues – Archers
4 Soul Damage – Sex Life
5 The Last Four Years – The Ocean Floor
6 Cool California – Youthbitch
7 Live @ Pioneer Square – Cloudy October
8 Call It Done – Brooke Parrott
9 Garage & Grace – Trio Subtonic
10 Hug Me – Jeffrey Jerusalem
11 Wastoids – Big Black Cloud
12 Happy Ghosts – Pardee Shorts
13 Bendito – Y La Bamba
14 We Got It Good – Charts
15 While We While – Palmas
16 Munde Ba Be Mali La – Dusu Mali Band
17 Modern Cinderella – The CRY!
18 Glass Watch – Like A Villain
19 Happy Home – Onuinu
20 Middle Of The Riddle – White Orange
21 Golden Age – Future Historians
DISC 2
1 PortlandtownUSA – Pancake Breakfast
2 Get Alive – AU
3 Ride For My City – Rose
4 I Wanna Do (What You Wanna Do) – Federer
5 The Wanderer – Sons of Huns
6 Secret Language – Boyscout Discovery
7 Timesnakes – Sun Angle
8 Arrows – Grandparents
9 Gentle Friend – MY BODY
10 Fathers Day – Neal Morgan
11 Wish I Could Love – Hollywood Tans
12 Winter Blind – Radiation City
13 Abigail iii – Lynnae Gryffin
14 Introduction – Luck One & Dekk
15 When You're Somewhere (You Ought To Be There) – Mark McGuire
16 Ivory Coast – Pure Bathing Culture
17 It's Just The Beginning – Smegma
18 Dead Maester's Tongue – Blood Beach
19 Anchor – Tu Fawning
20 Warm In The Winter – Glass Candy
For more about Portland arts, visit PoMo's Arts & Entertainment Calendar, stream content with an RSS feed, sign up for our weekly On The Town Newsletter, or follow us on Twitter @PoMoArt!