far reach of the blues
Review: 'It Ain't Nothin' But the Blues'
And the blues ain't never been so good. Thru June 24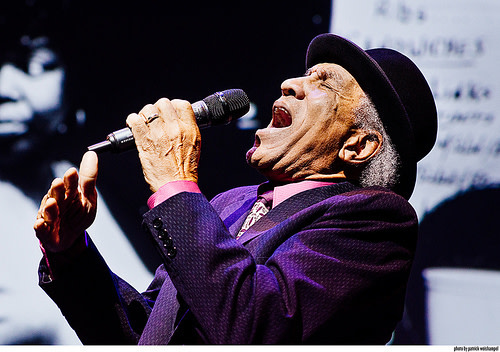 Portlanders like to pride ourselves on our depression. It really gets us sometime in late January, when it's been raining for three months straight, we've run out of Downton Abbey and Game of Thrones, we're nonplussed by the same ol' same ol' on OKCupid—man, we think we've really got the blues.
But we don't know nothin'. You want to know about the blues, you best make your way down to Portland Center Stage's It Ain't Nothin' But the Blues. A simple enough concept, the show is basically a musical primer through the history of the blues. Beginning with several African traditionals, it progress through early spirituals, chain gang blues, Mississippi Delta blues, gospel, country, jazz, honkytonk, and swinging Chicago blues in its far ranging journey of 40 songs.
Instead of complicating the show by adding characters and plot like many musical revues, the beauty of the performance is that it's truly about the character of the blues itself. There's a cast, if you can call them that, of seven who take turns singing—sometimes solo, sometimes in combination—and interact with each other more in a textural way than a narrative one, throwing in 'Amens!' during gospel, flirting with each other during songs like "Now I'm Gonna Be Bad," or telling little introductory stories about a song, type of song, or the blues in general, such as "In Africa, we sing while working the field…I'm telling you people, the blues was born."
And without exception, the performers are exceptional. Consisting of two original Broadway cast members (Eloise Laws and Mississippi Charles Bevel), several other Broadway veterans, and experienced blues singers, the group is incredibly talented and diverse in their abilities. Bevel, who was nominated for a Tony for writing the book and who himself grew up as one of seventeen children born to cotton-plantation parents in the Delta of Mississippi, possesses incredible phrasing and tone (reminiscent at times of Jimmy Scott) as well as incredible range musically and emotionally, from singing wrenching blues from his Mississippi Delta home to jumping like a small boy during upbeat gospel. Award-winning Broadway vet Jennifer Leigh Warren makes the angels weep with her gospel "I Know I've Been Changed," as well as breaking the funny bones with her chicken dance. And bluesman Sugaray Rayford's virtuosic control of his voice—not to mention his hips, which he swivels all the way to the ground—during Muddy Water's "Hoochie Coochie Man" [see video below] sets the house on fire and must incite more catcalls from an Armory audience than every previous show combined. (The show is ripe with sexual innuendo, and at times hips tell as much as words). And I could say equally glowing things about the other four: Laws, Sally Mayes, Chic Street Man, and Trevor Wheetman.
While there's a certain level of soul to the blues that's hard to capture in a scripted show (a good deal of the emotion is carried by historical drawings and pictures projected on two screens, and the performers sometimes lean more to humor than heartache), the talent of the cast and the band, the brisk pace of Randal Myler's direction, and the incredible selection of music make up for it by capturing the heart of the blues, or at least a wide-ranging gist. Then again, with the audience snapping, clapping, and singing along, the blues has never felt so good.
For more about Portland arts, visit PoMo's Arts & Entertainment Calendar, stream content with an RSS feed, sign up for our weekly On The Town Newsletter, or follow us on Twitter @PoMoArt!