resisting the doctors orders
Review: Next to Normal
Artists Repertory's production of the hit musical about overmedication felt like it's on too much Prozac. Thru June 3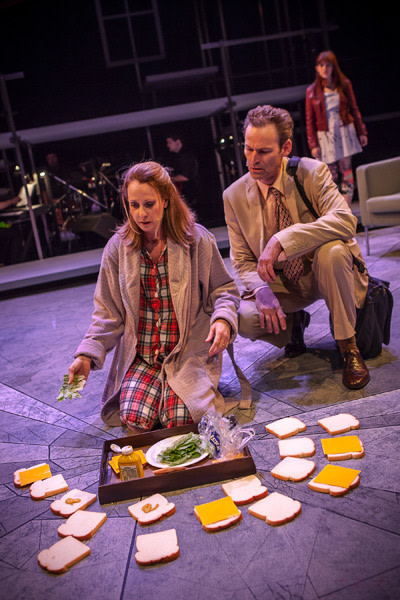 What is it with the recent rash of plays in Portland about hysterical women having hallucinatory breakdowns? In the last five months, we've had Angels in America, Anna Karenina, the first Brother/Sister Plays, and now Next to Normal. I'd wonder if there's something rippling through our feminine collective unconscious, except all the plays have been directed by men, so maybe it's more a reflection of Portland's emo male inability to deal with female emotion?
I'm hoping it's just coincidence, but if a fifth opens, I'm calling in collective couple counseling for our local theater scene.
Of the four, I was most excited about Artists Rep's Next to Normal. The idea of tackling the overmedication of America's psychological ills (and, of course, its very serious problems with mental afflictions) through a rock musical seemed just too rich a possibility for both humor and pathos. And the show, written by Brian Yorkey and composed by Tom Kitt, had after all won three Tonies and a Pulitzer.
But of the four, I'm saddened to say, it's the only one I found disappointing. Directed by Jon Kretzu, the whole show felt like it was on Prozac. It lacked the edges, the highs and lows, the rawness that should be inherent in a story about schizophrenia and bipolar disorder.
The story follows a suburban housewife, suffering from schizophrenia and any number of other problems, and her family's travails to deal with her illness, beginning with pharmaceuticals and eventually leading to electro shock therapy. There's a been-done-before plot twist in the first act, which I will respect enough not to give away, that comes to define her illness (and in a way minimize its psychological realness by positing that perhaps it's just undealt with grief—"what happens if the break weren't in my brain but in my soul").
Like most maladies, the show's problems grew from multiple, interlocking roots, some attributable to the play and some to the production. The script's nonstop singing suffocated the emotional tension; the music's sometimes cheesy keyboards overpowered the more emotionally supple acoustic guitar and cello; the volume mix of the band often drowned out the singing, particularly in full ensemble crescendo moments; the excessive length easily could've lost 30 minutes by removing a whole bit about post-electro shock amnesia in the second act; and the blocking felt somewhat clumsy and included an excessive amount of running that left one a bit numbed.
There were certainly good moments, and the saving grace for me was the breakout debut by Meghan McCandless, who is skipping her own senior year of high school in Medford in order to play a senior on stage. Both her voice and her performance as the snarky, resentful, emotionally guarded daughter were excellent, and her comedic timing and delivery were the best in the show. No stranger to comedy herself, Susannah Mars as the mother also scored her share of laughs while convincingly carrying the seriousness and suffering of her character.
Todd Tschida as her son had a beautifully haunting voice, but played his character with a leering, rock musical intensity—head craning forward, one arm rigidly pointing or raised in the air—that seemed more appropriate for some darkly oedipal Spring Awakening version of N2N. Perched up on the minimalist set built of scaffolding, he felt at times like some mischievous guardian gargoyle. On the other end of the spectrum, playing the loyal, long-suffering husband, William Wadhams, lead singer of the 1980s band Animotion, was wooden, emotionally flat, and given to stepping on the humor of his lines.
I'd be remiss not to say that the show got a standing ovation (although I must then add it was the theater's gala night, meaning it was packed with benefactors), and both Marty Hughley at the Oregonian and Bob Hicks with Oregon Arts Watch thought it was a strong production. Perhaps it was I who needs his dosage re-examined.
Nonetheless, as the recent productions of Angels in America and Anna Karenina demonstrated, a tightly choreographed, strongly acted play can easily push three hours without driving you to watch the clock. But the two and a half hours of N2N had me checking the clock before the end of the first act and yearning for a Xanax by the second.
For more about Portland arts, visit PoMo's Arts & Entertainment Calendar, stream content with an RSS feed, or sign up for our weekly On The Town Newsletter!