no reason to be down
Tomorrow Only: $30 Tickets to 'It Ain't Nothin' but the Blues'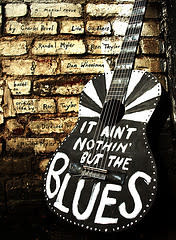 Right on the heels of Black Pearl Sings, Portland Center Stage is bringing more blues to town. And while it might be hard to feel the blues in weather like this, that doesn't mean it's hard to appreciate them, particularly when they're sung well. Tomorrow only, PCS is offering $30 tickets for its upcoming production of It Ain't Nothin but the Blues (that's up to $39 off per ticket). To get the discount, click here and use the code word GUITAR or call the box office.
This from PCS:
From African chants and Delta spirituals to the urban electricity of a Chicago nightclub, It Ain't Nothin' But the Blues is a stirring retrospective of blues classics that summons the soul of American music. Over two dozen musical numbers are included, among them "I'm Your Hoochie-Coochie Man," "Goodnight, Irene," "Fever," "Walkin' After Midnight," "The Thrill Is Gone" and "Let the Good Times Roll." It Ain't Nothin' But the Blues was nominated for a Tony Award for Best Musical, and has played to rave reviews all over the country. Through the music that is cherished as an original American art form, the standout group of musicians and singers on stage share a moving American story of troubles and triumph.
For more about Portland arts, visit PoMo's Arts & Entertainment Calendar, stream content with an RSS feed, sign up for our weekly On The Town Newsletter, or follow us on Twitter @PoMoArt!