the creative itch
Art Gets Sloppy at PICA's Weekend Symposium
PICA brings award-winning choreographer and performer Keith Hennessy for a packed weekend of open rehearsals, discussions about the economy, screenings of lesbian erotica, and drinking and dishing. It's happy hour fueled art!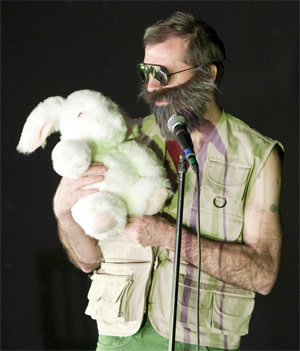 At the height of the AIDS epidemic in 1989, when contact with anyone else's bodily fluids, even saliva, still caused widespread hysteria, dancer Keith Hennessy performed a work in which he collected spit from the entire audience, combined it with black pigment and lubricant, and smeared it over his naked body. The piece, along with a series of equally daring, subversive, and political performances, ranging from dancing in the ashes of a torched Mission-district flophouse to dancing blindfolded on top of a bus, cemented him as one of San Francisco's greatest Expressionist dancers, and one of the country's leading queer activist artists.
This fall, PICA's TBA Festival will host the U.S. premiere of Hennessy's new work, Turbulence (a dance about the economy), billed as "a bodily response to the economic crisis." But most exciting to those interested in the magical and messy process of art creation is that he's calling it, with Hennessy wit, "a collaborative failure"—and that collaboration starts tomorrow with a symposium called "Bodies, Identities & Alternative Economies." Over four packed days, it will include an open rehearsal for Turbulence involving both visiting and local artists, happy hour reading groups, a tour of historic queer Portland in partnership with the Dill Pickle Club, a screening of the lesbian art house erotica Community Action Center, and a dinner, among other events.
It all kicks off tomorrow night with a performance of Hennessy's Bessie award-winning solo, Crotch at Studio 2 at 8pm. This is art in action folks.
Watch a preview of Crotch with Hennessy discussing the work by homotopia.tv.


For more about Portland arts, visit PoMo's Arts & Entertainment Calendar, stream content with an RSS feed, sign up for our weekly On The Town Newsletter, or follow us on Twitter @PoMoArt!