gallery grazing
First Thursday Sampler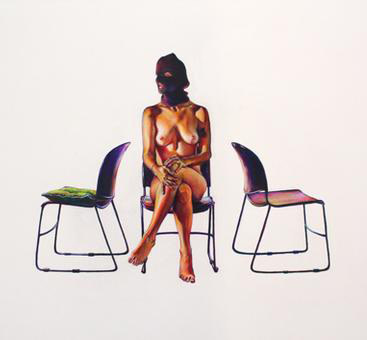 Group Show: A Nude to Suit Every Need
Undressing Room: A Juried Group Exhibit at Froelick Gallery
The breadth of artists and work in this juried exhibition exploring the human figure is truly wonderful. There's the uncomfortably voyeuristic, like the haunting, naked self-portraits by Jim Riswold shortly after surgery, his body scarred and penetrated by a catheter, or by Julia Kozerski, her seemingly deflated body standing silhouetted by an open fridge door in a kitchen of tacky cabinets and fake bricks. There's the technically beautiful, like the fleshy oil painting of a larger lady sitting awkwardly by Hagit Barkai or the inlayed wood sculpture or a woman's spread legs by Daniel Fagereng. There's the beautifully absurd, say Grace Weston's photograph of a swan headed porcelain man attacking a knife-wielding porcelain woman. And of course there's the erotically transgressive, from Michelle Ramin's colored pencil self-portrait triptych of a hooded naked woman in various poses on stackable plastic chairs to Dan Gluibizzi's mostly monochromatic watercolors of naked couples fondling, kneeing, cupping, and otherwise manhandling each other's junk.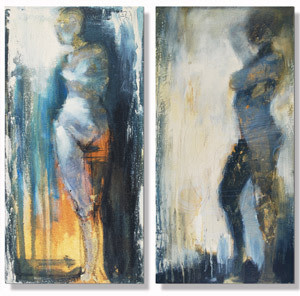 Mixed Media: Artistic Ménage à Trois
Marla and Mike Baggetta's Embodiment at Annie Meyer Gallery
Complementing the group show at Froelick, wife and husband Baggetta join forces to create this series of dynamic, colorful, hazy nudes. Marla, known for her Impressionist landscapes, paints the unfinished female figures, which Mike than obscures, embellishes, and obfuscates with his vivid abstract brushwork.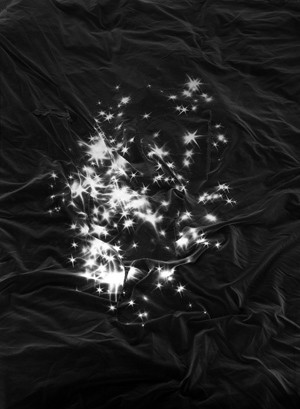 Group Show: Pairing Students and Masters
Exhibition & Release & Reception at ?The Cleaners at The Ace Hotel, 1022 SW Stark Street
Thursday only, from 6–10
As the wave of end-of-year student showcases goes up, one show particularly stands out. Curated by Fourteen30 Contemporary's Jeanine Jablonski, the Exhibition portion of the evening pairs works by 2012 Master of Fine Arts Candidates from PSU's Contemporary Art Practice/Studio program with contemporary artists from the Northwest Region— Chris Johanson, Brad Adkins, Wynne Greenwood, Sol Hashemi, James Lavadour, and D.E. May—to introduce the candidates to their first post-collegiate colloquy. The Release refers to the publication [Studio], edited by Lisa Radon, which attempts to capture and respond to visits by the artists of the 2011-12 PSU MFA Studio Lecture Series. And the Reception is simply that, with hors d'oeuvres by Clyde Commons.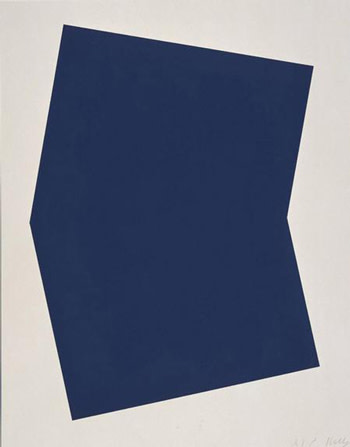 Prints: An Abstract Master
Ellsworth Kelly's Selected Prints at Elizabeth Leach Gallery and the Portland Art Museum
The abstract prints of Ellsworth Kelly aren't complicated affairs: a brightly colored shape or two floating on a background of warm white or emphatic blue, or a grid of brightly colored pixels filling the space. But the simplicity is deceptive. Let your eyes take in their vibrant, contrasting colors, slide along their gentle curves, and get pierced by their angles, while their boldness and expansiveness fills the mind like the afterglow of a fine bourbon.
The exhibition of his prints at Leach can whet your appetite for the exhibition at the Art Museum opening on June 16 that will boast more than 100 works by the artist drawn from the collection of local patron Jordan Schnitzer, whose archive is deep enough to constitute the first retrospective of Kelly's prolific print practice since 1988, organized in cooperation with the Los Angeles County Museum of Art. Kelly's virtuoso handling of the medium aptly illustrates why he redefined abstract art and grew to become one of the most important American artists of the past century.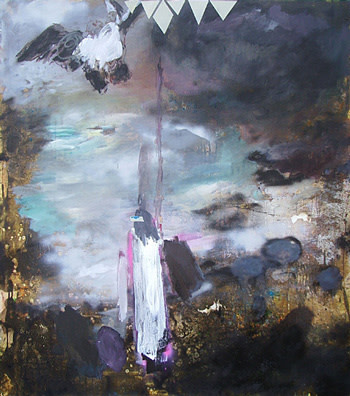 Painting: Delicate Utopias
Martin Mohr's Playing Fields at Victory Gallery
Presented as part of the contemporary art series "The New Germans," Berlin-based artist Mohr paints mostly abstract large canvases of floating worlds hanging in hazy, colorful space, or obscured utopic landscapes. He says in his artist's statement: "My paintings are not about depicting the world as we can see it but try to develop imaginary worlds of my own. For me these are places and rooms / spheres of yearning, of visions, utopias and dreams: these are non-materials spheres based on ideas and imagination."

For more about Portland arts, visit PoMo's Arts & Entertainment Calendar, stream content with an RSS feed, sign up for our weekly On The Town Newsletter, or follow us on Twitter @PoMoArt!