a dysfunctional co-memoir
Interview: Meghan McCain on "America, You Sexy Bitch"
McCain's new book with co-writer Michael Ian Black is out today. The two will speak at the Bagdad on July 20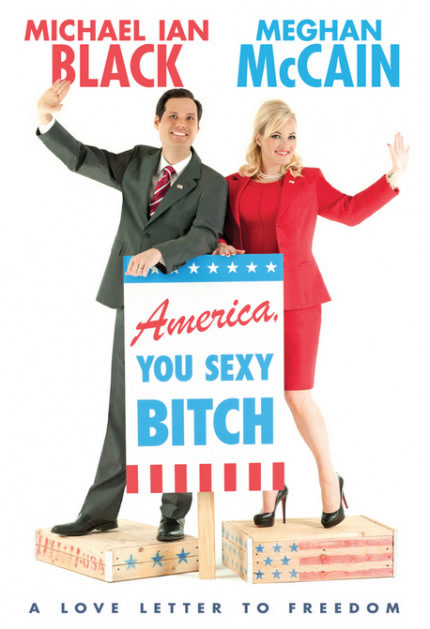 Meghan McCain (columnist at The Daily Beast, MSNBC contributor, famous daughter) chatted with PoMo recently to discuss life on the road with hipster icon and co-writer Michael Ian Black, her plea to "legalize it!" and the resulting travelogue describing all this and more, America, You Sexy Bitch, published today by Da Capo Press. Meghan and Michael will appear on July 20 at the Bagdad Theater.
So you two are touring together. I just finished reading the book this morning, and I'm glad you two are still on speaking terms.
[Laughs] Depends on what day you ask me.
How did you embark on this crazy political adventure?
Michael and I hadn't even met in person when we came up with the book idea. I was a guest on his talk show pilot. He was making fun of me, and I totally gave it right back to him. I was like, "who are you to be making fun of me? Are you kidding?!" The audience really liked it, and sometimes you just have personality chemistry with a person. I think Michael and I sort of have that. Some time after the show, he direct messaged me on Twitter and just asked me if I wanted to write a book together. At the time I had just gone through a really bad breakup with a [book] deal myself that was unsuccessful, and I said, "hell yeah, I want to write a book together! Let's go on the road!" It was literally that quick and that simple. We came up with the book idea, spent a week putting it together, literally talking all day everyday, wrote out our proposal, sent it off and sold it two weeks later. As I started to pack two nights before we were supposed to leave [I panicked], like, "what am I doing? Why am I doing this?!" But we signed a book contract, and now I have to do it [laughs].
I love that the book was never too far from devolving into total disaster. Instead, it developed into an intriguing meditation on the some of the very real elements that differentiate America's bipartisan ideologies. I was impressed at your ability to periodically sew things back up and to not kill each other.
It's totally our relationship now. We just fight, fight, fight, and I'm like "I hate you!" and he's like, "I hate you too, I don't want to work with you ever again!" and I'm like, "I love you, I'm sorry," and he's like, "I'm sorry, I'm a jackass…"
He's like the liberal brother I never had. I get along great with my real brothers, but if I had a brother I fought with it would be Michael.
In the book you were pretty upfront in divulging the juicy details of life on the road, but were there any particularly sordid details you left out intentionally?
No, nothing. I had numerous discussions with my mother, the publisher, and Michael about whether we would keep the fact that we got high in New Orleans. Because I'm in the news business and work for a news channel (even though I did this before I was employed by MSNBC) there was a big discussion whether we should keep that part in. Obviously, it's going to get a lot of attention and people are going to be curious about it. I was living in LA at the time, and I knew a lot of people who had medical marijuana cards, so I was already thinking about the issue on a national scale and its cultural impact on US. Then we went on the trip and, yes, we intentionally planned on doing it…we [ended up] smoking weed with our friend Glen in New Orleans, and I was thinking it would open up a discussion. I'm pretty conservative on many issues but, now, I just don't understand why we don't legalize marijuana and just tax the hell out of it. It would really help the economy. We're not having a real conversation about that [in US politics].
Sometimes you have to push the envelope in order to get results.
I feel like it's this issue we're choosing to ignore. I'm not not a fan of Ron Paul, I'm sort of ambivalent towards him, but when I sort of researched his position about the issue—it wasn't something I had really thought about before the road trip, but now I'm just fascinated by what decriminalizing marijuana would do in this country with regard to jails and prisoners and, again, just our economy in general. When you really start doing the research, I don't understand why we have this untapped opportunity to make money and we're not taking it. It's something I get asked a lot at colleges and my mind is definitely changed on its being legalized.
Towards the end of the book, Michael implies that nothing ever really got resolved between the two of you. In the last chapter you take more or less the opposite points of view, retain your optimism, and argue that common ground was discovered. Are you surprised by his concession or have you come to expect this point of view within the liberal community?
He was equally open-minded to a lot of experiences, and I think I definitely changed his mind on gun ownership, on some level, in America. I think he at least understands where we're coming from. I could have ended up with a total close-minded asshole psychopath, but instead I got a very sweet person.
Who sometimes plays devils advocate…
He pushes my buttons just because he knows what buttons to push. He makes me insane.
You guys need to do a reality show…
No, I don't think we should. I don't think I can work with Michael again after this. I love him but I just want to get through the book tour with him [laughs].
In our political landscape, extreme views are common amongst party spokespeople and leaders. What is the advantage of being a "liberal" or moderate conservative, considering all the resistance and disdain you no doubt receive from your own party? At times, don't you feel like you are undermining yourself?
I'm not like most people in politics. I don't like extremism in general or the attitude that "I know everything and this is exactly how it is." My worldview is always evolving, my life is work in progress, and as I learn new things I'm open to the idea that my views can change, too. Undermining myself? I think I'm kicking ass and taking names.
As a public figure it must get exhausting to be at odds with your party at the expense of being true to yourself.
Listen, it's much easier to give people what they want and not challenge your world view. To go on TV, memorize Republican talking points, and vomit them back up. It's much harder to admit that we live in polarizing times and question what we can do to make it better. I have to go to sleep at night. I'm a woman of faith and I believe in morality. I don't know how people can go on TV and lie for the sake of entertainment.
I think you are a great role model then. What are your thoughts on being billed as a voice for your generation?
I get uncomfortable with people saying I speak for quote unquote "my generation." I speak for people who want me to speak for them. As many people who think I'm the second coming, here to save politics, there are just as many who also think I'm an air-headed antichrist who is the worst thing to happen to politics ever. I have amazing platform, I come from this crazy, very public family, so I might as well use my voice to speak out for what I believe in. Quite honestly, there aren't many women my age who are doing it. I'm not sure where my fearlessness came from, but I'm not scared of anything: I'd rather go out and change the world than sit on my butt.
After spending a month with elitist liberals like Michael, are you wary of Portland? Be honest.
I'm totally looking forward to having an open discussion. It might be more of a Michael crowd, but I don't want to judge places or people until I've experienced them! I hope Portland will like me, like our talk, and hopefully like our book! I'm looking forward to having a good time.
Well, being completely immersed here in liberal culture, as a reader it was nice to encounter a fresh voice…
[Mocks fear] Ahh! I hope everybody in Portland is going to be nice to me! Now you're scaring me!
For more about Portland arts, visit PoMo's Arts & Entertainment Calendar, stream content with an RSS feed, sign up for our weekly On The Town Newsletter, or follow us on Twitter @PoMoArt!