madcap maestro
Live Show Review: Reggie Watts Spouts Off
At the Crystal Ballroom last weekend, and about to begin appearing regularly on a TV show, eccentric Seattle comedian/musician Reggie Watts was in rare (but common for him) form.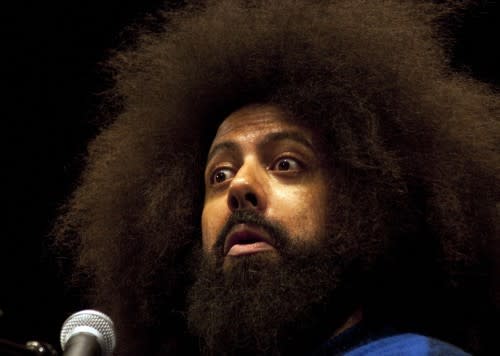 Sunday night, vocalist/jester/human-beatbox Reggie Watts unleashed his unique blend of on-the-spot songwriting, improvisational comedy, and hand puppetry on a packed house at the Crystal Ballroom. Known to fans from opening for Conan O'Brien's live tour, numerous NSFW YouTube videos, and fresh off the release of a live Comedy Central special and featured TED talk, Watts' performance was packed with his special brand of energy and absurdity that did not disappoint his assembled devotees. And, given the ratio of knowing laughter to befuddled expressions, the gathered crowd was well aware of what they were getting into when Watts' free-floating Afro came bobbing up onto the stage.
Part of the fun of seeing Reggie Watts perform live is the knowledge that a great deal of his material is made up on the spot; the spontaneous, organic nature of his comedy goes a long way towards compensating for its occasional incomprehensibility. Songs about overdraft charges, solemn poetry recitations, and one unspeakably filthy ode to bedside tissues were just a few of the gems Watts pulled from his improvisational repertoire. And while many performers try to woo the crowd by complimenting or lovingly mocking the host city, Watts (who lived in Seattle for many years) went above and beyond in his treatment of Portland. A few of his finest moments:
Watts described his excitement about his new IFC show, called Austinlandia, about a magical place where "people love to ride bicycles – intensely so – and have fights with motor vehicles". His costar, Imogen Heap, had proven to be "an incredible comedic actor."
"People living in the Northwest should not have convertibles, because they always leak and smell a little weird."
Watts' lengthy discourse on fixed-gear bikes (sure, pedaling constantly is way safer than actually having brakes) morphed into a stream-of-consciousness account of bicycling through New York City, then a grand scheme to create a fleet of nearly silent, entirely electric Harley Davidson motorcycles.
Perhaps the biggest crowd-pleaser was Watts' soliloquy on The Goonies, which he saw as "important, because it was Stand By Me, mixed with Big Trouble in Little China, and maybe a little bit of Robin Williams' live-action Popeye."
If you missed seeing Watts last weekend at the Crystal Ballroom, fear not: this Friday, he'll start a new gig as a one-man bandleader on IFC's radio-turned-TV show Comedy Bang! Bang! with Scott Aukerman—allowing you to conjure his majestic mop-top and wacky patter any time for home viewing.
For more about Portland arts, visit PoMo's Arts & Entertainment Calendar, stream content with an RSS feed, sign up for our weekly On The Town Newsletter, or follow us on Twitter @PoMoArt!