In Memorium
RIP Sean Roberts
Bassist and singer for 90s band Thirty-Ought Six passes away.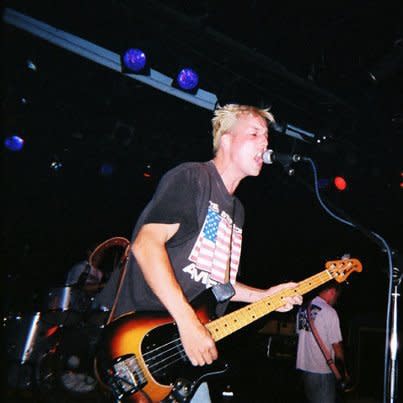 Sean Roberts, a bassist and singer with Thirty-Ought Six, a highly influential and beloved Portland band from the 1990s, passed away late last week in Arlington, Virginia. The cause of death has not been released.
Reminiscence: I was playing bass in a Eugene band called Nancy Druid in 1993 when we were asked to open a show in Salem at the Mission Mill with big-time Portland groups Hazel and Thirty-Ought Six. Needless to say, we were pretty damn scared, because we knew that these bands had, like, records and stuff, and there was going to be a huge crowd. I talked to Sean for a while that day, and many times afterward. He was cool and genuine, friendly, smart, charismatic, funny, and passionate, and I immediately based my opinion of Portland musicians on him, which prompted me to move there a year later. Later Sean sold me a bass amp. He said he didn't need it anymore because he was switching to drums for his new band Umberhulk. He worked at the Delta Cafe and I always saw him at parties. At least two girls that I had huge crushes on, had huge crushes on him.
His sad passing has mired me in a nostalgic funk for old Portland, the camaraderie, the dreams, the great bands, and the friendships made under fire. Inspiring shows at La Luna, EJ's, Satyricon, and other bygone venues were commonplace weekend occurrences, and everyone was drunk on the possibilities and burning with ambition. Sean may have burned the brightest; he was one of the most intense and captivating front men I've ever seen, and the music he left behind is well worth the trouble to find it. He will be greatly missed.
Umberhulk lyrics from the song "Tetragrammatron," by Sean D. Roberts.
Tetragrammatron
"Living on the frontier of feeling,
Cherish every second you're stealing
Vision in your life, all-revealing
All your life a subject: kneeling.
Travel at a speed so amazing
Ignorant of what you are facing
Naked in a light so debasing
Blinded by the stars you are chasing
Madness when you look into God's eyes
Visions banish all truth, and all lies
Suddenly you know that all love dies
This will vanish: all fear, and all ties. Ha!"
For more about Thirty-Ought Six.