phile under: TBA 2010
TBA 2010: On the Boards Responds
Artistic Director from On the Boards responds to Claudia's review of Gloria's Cause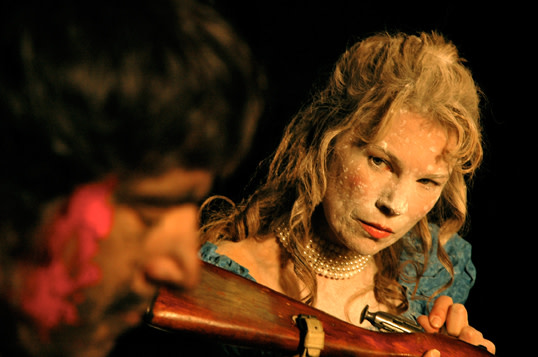 Last week I saw Gloria's Cause, a work-in-progress by Dayna Hanson. I really didn't like it.
But criticism ain't arithmetic (thank god). For me the relationships we have to art works are pretty much like those we have with people, and the love of my life might well be the bane of your existence. With that in mind, I thought it would be interesting to invite the ultra-smart Lane Czaplinski to respectfully disagree with my take on Hanson, which you can read here.
Here's what he had to say:
The specter of the Woosters definitely looms large for anyone trying to make experimental performance, and having Liz in the audience and their installation a few flights of stairs above the Winningstad Theatre where Gloria's Cause was performed is downright eerie. But even the mighty, mighty Woosters (and I mean this sincerely… For You, The Birdie is on my personal list of top 10 performances of all time), often crumble under the weight of their own achievements.
I think there's a lot more being developed here than just the quoting of a bunch of downtown techniques from twenty years ago. The fact that the show is in the Winningstad in the first place shows the savvy of Dayna and her collaborators, who were originally slated to perform in the Someday Lounge which is a much more relaxed and informal cabaret context for showing a work-in-progress, before they were moved to the larger professional theater. The move didn't seem to hinder the company's ambition in their quest to create a sort of rock-musical-meets-dance-theater work about how our great country has shat on a lot of people historically and has ceased to stop doing so. (full disclosure: On the Boards is a commissioner and producer of this work, and I've had the privilege of participating in creative meetings and rehearsals)
The clichés about developing a new production are well-known. "It needs a lot of work," says Producer/Critic #1. "Yeah," chimes in Producer/Critic #2, "and it needs to be at least thirty minutes shorter." How will artists ever be able to create works that play larger spaces and tackle complex subjects, though, if they're always being shamed into stripping away devices, clarifying every single intention and reducing show length to the same tightly wound sausage? If anything, Gloria's Cause can now go further, plunge deeper and maybe become even bigger because of the work done thus far. There is nuance in the writing that is becoming clearer and more powerful as they continue to find the right tones and shading for making their characters and stories more dimensional. Dayna's choreography has always displayed a sort of cool and steely refinement, and while I certainly think the show can hit this mark by the time it premieres in Seattle in December, it is really early in the process and the dancers simply need more reps. The music rocks but they're still trying to strike the right balance between dialogue and sound. Oh—the show still hasn't been fully lit and Dave Proscia is a fantastic designer. I'm excited about where the show is headed.
Cheers to PICA for not underestimating the capacity of their audiences and giving them the opportunity to peer into the process of creating a new performance.