gallery grazing
First Thursday Sampler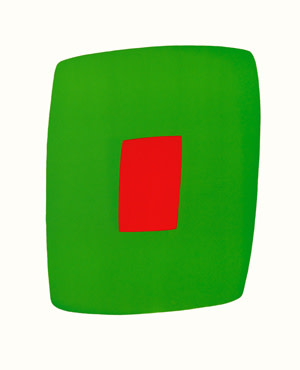 Prints: A Minimalist Master
Ellsworth Kelly/Prints at Portland Art Museum
This giant of 20th Century art makes prints that, like his paintings, are deceptively simple, yet you can get lost in each, sailing around the bold edges of the shapes, sinking deeply into the vibrancy of the colors. Each print is captivating enough to hold an entire wall, but hung in this exhibition in tight succession, they create a trajectory for the eye and an incredible sense of movement, like they are tumbling down the course of the room. Kelly's partner, photographer Jack Shear, gave us a tour and shared some of the stories behind the masterworks.
And for those who can't get enough minimalism, head to Augen Gallery for a collection of prints from five early instigators of minimalism: Kelly, Josef Albers, Sol Lewitt, Robert Mangold, ?Frank Stella, and Donald Judd. And select Kelly prints are also on display at Elizabeth Leach Gallery.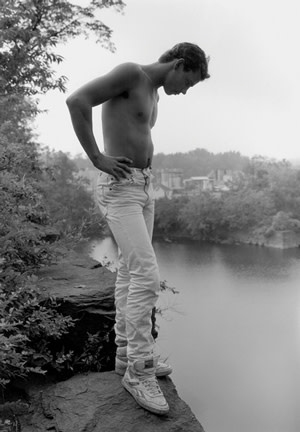 Photographs: Summer Nostalgia
Mark Steinmetz's Summertime at Charles A. Hartman Fine Art
Steinmetz's new book, Summertime, by Portland's Nazraeli Press, opens with a black and white photo of a boy lying on a neatly manicured school lawn, eyes closed and hands clasped behind his head, smiling with a look of unbridled contentment. It perfectly captures the endless possibility of summer that Steinmetz's photographs in this exhibition go on to document in all its idle, restless, meandering glory. Shot between 1984 and 1991, he captures his young subjects hanging from porches, playing in rivers, and necking on cars with the subtle, documentary style that has earned him a Guggenheim Fellowship as well as a place in collections at the likes of the Museum of Modern Art, the Metropolitan Museum of Art, and the Art Institute of Chicago.
While the unposed, quiet honesty of his photos seems a refreshing antidote to the deadpan, disaffected portraiture filling many contemporary walls, this exhibition is almost more powerful for the nostalgia it evokes—for a time when kids were allowed to roam freely, unencumbered by the constant surveillance of parents and the relentless distraction of cell phones and Facebook. We'd like to think summertime is timeless, but do kids today still see it this way?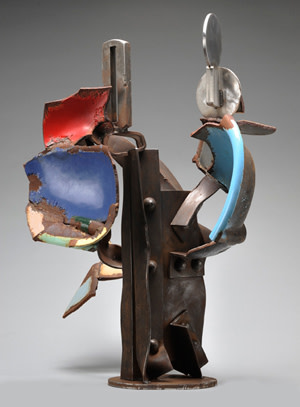 Paint and Sculpture: Abstract Whimsy
Willy Heeks' My Findings + Robert Hudson's Recent Sculpture at Elizabeth Leach Gallery
Rhode Island painter Willy Heeks creates vibrant, luminous abstract paintings that seem to fuse ethereal hints of landscapes with graffiti and blurring fields of color. What Heeks accomplishes with oil and acrylic paint, Bay area artist Robert Hudson does with large-scale welded-steel and poly-chromed steel and bronze sculptures. Convoluted, twisted, battered, and bolted metal winds together, evincing hints of landscapes and figures. Hudson emerged from the assemblage sculpture and Funk art movements in California during the late 1950s and 1960s, and his sculptures combine raw materials with found objects to evoke a weathered whimsy and sharp wit.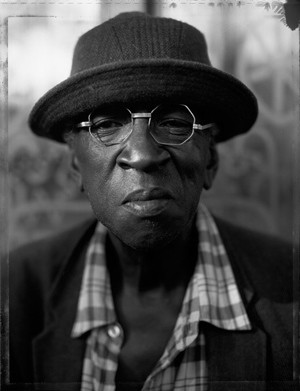 Photography: A Snapshot of Two City
Bobby Abrahamson's North Portland Polaroids + Daniel Traub's Philadelphia at Blue Sky Gallery
After moving to St. Johns, documentary photographer and filmmaker Bobby Abrahamson set out last summer to shoot "a portrait a day" in his new neighborhood. So he carted around a tripod and large format camera (the type with the black cloth over the photographer) and shot with the soon-to-be-extinct Polaroid Type 55 4" X 5" instant positive/negative film, capturing the idiosyncratic cast of characters that make up his new neighbors. Ampersand Gallery & Fine Books is publishing a limited edition volume featuring 46 images from this series. The exhibition will stand in contrast to Daniel Traub's similar project of documenting the inner city neighborhoods of Philadelphia with large-format color photographs.
Artist talk by Daniel Traub Saturday, July 7 at 3 pm
Artist talk by Bobby Abrahamson Wednesday, July 25 at 6 pm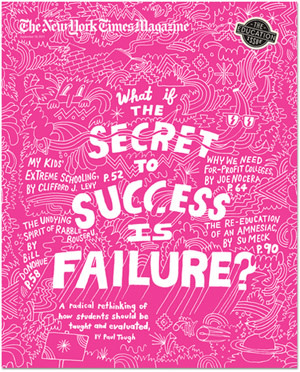 Group Show: Putting the Eastside on the Map
Friday from 7pm–12am
First Friday, the Central Eastside's response to the First Thursday gallery walk, sometimes feels like the ignored middle child of Portland's art world: not as established and sophisticated as older sibling First Thursday, not as wild and rambunctious as younger sibling Last Thursday. But now some ambitious folks at creative hub UNION/PINE and maker incubator/workspace ADX are rebranding the night as 1F and launching a new Central Eastside map designed by Taylor Lineberger at ADX. Celebrate eastside art at UNION/PINE's group show containing works from Kate Bingaman Burt, who has been featured in everything from ReadyMade to Apartment Therapy; Will Bryant, whose work has been on the covers of the New York Times Magazine and Good; photographer Nicole Clemetson, whose work regularly appears in PoMo; and many more, not to mention music by Lamar LeRoy. And there'll be pedicabs on hand to ferry you to the co-celebration at ADX.
The First Thursday art walk is a monthly event held by an assortment of galleries in Portland's Pearl District. For more about Portland arts events, visit PoMo's Arts & Entertainment Calendar, stream content with an RSS feed, or sign up for our weekly On The Town Newsletter, or follow us on Twitter @PoMoArt!