theater fest, just add water
Our picks for the JAW Playwrights Festival
Friday through Sunday at Portland Center Stage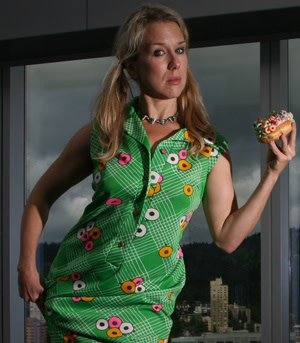 Every summer, as Shakespeare companies, classical festivals, and live Trek reenactments fill Portland's parks and squares with performance, and audiences go for picnic blankets instead of assigned seating, there're still a couple reasons to go inside for art. One leading impetus, both for the quality of the work and the affordability of its tickets (that is, free), is the JAW Playwrights Festival at PCS. After conducting a national search, the folks at JAW chose six new full-length plays for readings and commissioned a special evening of micro-plays by Oregon playwrights. The result is three days of raw theatrical splendor and bragging rights to say you saw the next blockbuster here first.
Here are some highlights:
Made In Oregon & Opening Party
Thursday, July 26 at 8pm
From baking mixes to those little capsules that turn into dinosaur sponges, the wonder of "Just Add Water" never seems to dry up (and certainly we know something about a surplus of water in Oregon). The idea serves as the theme for the weekend's epically named kickoff festival within a festival: The 14th Annual Just Add Water Made in Oregon 5-to-8 Minute Play Festival. Which is to say, JAW invited eight Oregon playwrights (Sara Jean Accuardi, William S Gregory, Brian Kettler, Debbie Lamedman, Rich Rubin, Ebbe Roe Smith, Nick Zagone, and Matthew B. Zrebski) to write five-to-eight minute long plays around the theme "Just Add Water." We just hope there's a splash zone. The plays are followed by the opening night party.
Bo-Nita by Elizabeth Heffron
Friday, July 27 at 4pm
Troubled 13-year-old Bo-Nita's only seen one miracle: her ex-stepfather dropping dead from a heart attack while trying to molest her. A crazy roller coaster of heartbreak and searing humor ensues as her mother, not exactly a model of maternity, tries to cover up the death and the two try to protect each other through a harsh working-class American landscape (sprinkled with a dash of Midwest magical realism). The one-woman reading is performed by Kate Eastwood Norris, a long-time JAW favorite and a stand out in last season's The North Plan (read our review).
The Bachelors by Caroline V. McGraw
Saturday, July 28 at 4pm
The play that has everyone in the JAW workshop talking is a tale of three frat brothers long past their college days but still living on frat row. They've drunkenly stumbled through thousands of parties and girlfriends as the years passed them by, but everything will change on this one pledge night. Expect catastrophe, new lows, fighting, Patron, ghosts, drugs, and love in this darkly hilarious work from Caroline V. McGraw, a winner of the Young Playwrights Inc.'s National Festival and a recent MFA graduate of the Yale School of Drama.
The People's Republic of Portland by Lauren Weedman
Sunday, July 29 at 4pm
When comedian and former Daily Show correspondent Lauren Weedman came to Portland last year to perform her hit one-woman show, Bust, about her time spent volunteering at a women's prison, she, like everyone else, fell in love with our fair and seductive city. So PCS asked her to write a play about us to be workshopped at JAW and then premiere next April. We have to admit, we're pretty hesitant about this one. Does Portland really need another comedian riffing on our chicken coops, fixies, and predilection for artfully groomed facial hair? But we hear her last two weeks of "research," such as "touring" local breweries, have been a hilarious romp of renegade humor, so we're willing to give it a try.
The Few by Sam Hunter
Sunday, July 29 at 8pm
Winner of an Obie and a Sky Cooper Prize, among many other awards, 31-year-old playwright Sam Hunter is a rising national voice willing to tackle unusual and even controversial subjects with a deft hand and humor (see the evangelist father and son of A Bright New Boise and the 600-pound protagonist of The Whale). In The Few, he takes on the founder of a newspaper for truckers who returns after an unexplained four year disappearance and tries to pick up the pieces with his former lover, new coworker, and paper, while searching for a way to keep faith in humanity.
All readings are free and at the Gerding Theater at The Armory, 128 NW 11th Ave.
For more about Portland arts, visit PoMo's Arts & Entertainment Calendar, stream content with an RSS feed, sign up for our weekly On The Town Newsletter, or follow us on Twitter @PoMoArt! Blog content reflects the views of the individual author and not necessarily SagaCity Media, Inc.