pyramid scheme
Local Author talks Egypt + Evel Knievel
Lewis & Clark professor and Red Weather author Pauls Toutonghi has given a lot of thought to heritage, labels, and the larger-than life.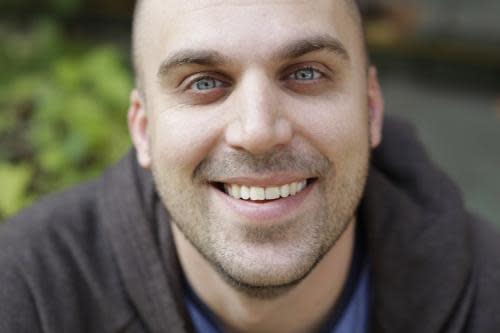 In Pauls Toutonghi's sophomore novel, Evel Knievel Days, Khosi Saqr is in all ways out of his element—as a half-Egyptian in a Montana mining town, as an obsessive-compulsive living in a hopelessly dilapidated house, as a would-be suitor to his lifelong best friend, as the one who couldn't muster the money or courage to go away to college. When his mentally tenuous mother finally pushes him to a tipping point, he embarks on a pilgrimage to his ancestral homeland to track down his deadbeat dad. Like its namesake, Knievel starts off a little choppy but gains traction as it goes along. On the eve of Toutonghi's Powell's reading, Culturephile put a bookmark at page 109 and peppered the author with the following questions:
Your main character, young Khosi, faces some classic challenges: Getting the girl, finding his father, finding himself, and fitting in. (And as a prof at Lewis & Clark College, you probably watch such dramas play out daily.) Could you see this book included in the YA canon alongside, say, Blake Nelson's books? Or is it strictly for grown-ups reflecting on their tumultuous youth?
I don't see this novel as YA, no. Blake is a terrific writer, though–so I'd be proud to be shelved alongside his work. But…there's lots of stuff within the broad shelves of that genre that's truly terrible. Also, YA can be a tag that sort of ensures that you're not part of the broader cultural conversation in the same way, somehow, as other fiction. No YA novel has ever, or will ever, for example, win the National Book Critics Circle Award for Fiction—which is a really nifty award. And was awarded to basically two of my favorite books of the last two years: Jennifer Egan's Welcome To The Goon Squad, and Edith Pearlman's Binocular Vision. Then again, novels like Lord of the Flies or A Separate Peace would be considered to be YA if they were published today. So, it's a muddle.
Khosi is half Egyptian (like yourself). How does his experience of his ethnicity mirror your own, and how does it differ? Did you have to research your heritage in order to create his voice (one that's very knowledgeable about Egyptology)? Or was this more a case of "write what you know?"
I didn't have to research that, at all. There was some stuff I did with the city itself, because I traveled there late in the writing process…some amount of research of streets. But, then, when I got there and looked around, I already knew what I'd written, so I just changed the things that seemed wrong to me. As for the Egyptology stuff—well, I've always been fascinated by that. It's hard to tell where I did my research for that, over the years.
Same question about Obsessive Compulsive Disorder. What parts of your narrative came from what parts of your personal experience and/or how did you research the condition?
Well, I have some small compulsions; I'm excessively organized with the display of my books, for example. But for the most part, Khosi is a character I dreamed up, a creation of my imagination.
Let's talk hero-worship: In your story, Evel Knievel serves as more of a deity than a man (complete with his own festival, a seeming religious rite). Do you think ad-hoc gods like Knievel are beloved because they embody (and magnify) existing ideals of their society? Or is it because they singlehandedly change existing ideals? Which of Evel Knievel's qualities inspire you most?
This is a terrific question. I think there are certain aspects of the American personality, broadly defined, that are embodied in the things that Evel did. He also had a sad life: he had problematic relationships with women, made anti-Semitic comments in the press, had highly questionable political views, drank to excess.
But there's also something incredible about the things he did, as a single human being, against the forces of destruction, if you will. He flew down a ten-storey ramp and over a dozen double-decker buses. He jumped a canyon while strapped to a machine. It's great stuff. It's inspirational.
If you were to imagine a Portland equivalent of Evel Knievel Days, whom would it honor and what would the festivities entail?
Ha! Ursula K. Le Guin Days?
And what would it entail? Maybe the same things as Evel Knievel Days*? I think that Ursula might like that, somehow. Not very green, but maybe there could be a more Earth-friendly version of Evel Knievel Days. Bicycle stunts? Oh, that's a terrible idea….
*Motorcyclists attempting feats, drinking and merriment
For more about Portland arts, visit PoMo's Arts & Entertainment Calendar, stream content with an RSS feed, sign up for our weekly On The Town Newsletter, or follow us on Twitter @PoMoArt!