read up/listen in
Love Rock Revolution: The Soundtrack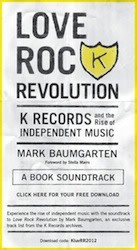 Last week, we told our On The Town Newsletter subscribers about former Portland rock critic Mark Baumgarten's debut nonfiction book, Love Rock Revolution: K Records and the Rise of Independent Music, which follows the seminal Olympia label's far-reaching associations with Beck, Beat Happening, and a slew of other "alternative" music game-changers from the late 80's to its prolific present. Those who picked up a copy or attended the Powell's talk and 12-song tribute show, will be pleased to know that the book has also been bolstered by a free soundtrack courtesy of K. It's a good thing, too, because how could you imagine the "strange, wonderful music" that Baumgarten describes, without hearing examples?
As Portland gears up to demonstrate its own DIY rock cred this weekend via PDX Pop Now (watch this space for more) it seems viable to fold these recent forays into the broader context of Northwest indie rock, thanking our sister cities Olympia and Seattle for always letting us borrow their cool records.
For more about Portland arts, visit PoMo's Arts & Entertainment Calendar, stream content with an RSS feed, sign up for our weekly On The Town Newsletter, or follow us on Twitter @PoMoArt!