bounce!
TBA 2011: Vockah Redu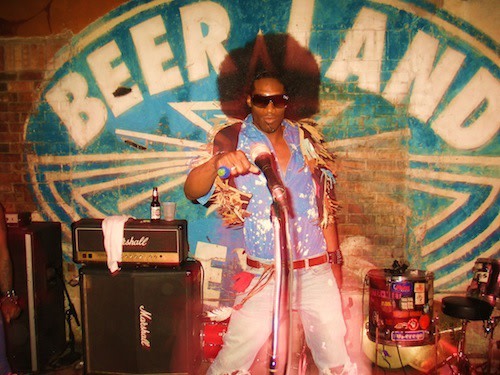 "They say, 'Donte, he's sissybounce, he preach, he's Andre 3000, he's Jimi Hendrix….' But you can't put a label on art!" exclaims Donte Brown from front-and-center stage, flanked on both sides by dancers in silver boots. "You put Versace on me, and it's not Versace anymore—it's me. Can't nobody rock a party like I do!"
Vockah Redu's frontman is not modest, nor should he be, judging by his crew's ability to overtake a room. Representing for the burgeoning "bounce" genre, the group booty-shook and swaggered through their opening-night set with a haughty ghetto flair that Portland rarely gets to see—and we imagine the crowd's wild delight was due as much to the novelty of it all, as to the actual bumpin' beats. At the set's zenith, some audience members erupted into ecstatic fits of krumping, seeming to surprise even themselves.
Last year, few musical moments were made the most of. Extreme Animals seemed like B-grade versions of the white-guy ironic snark that Portland already does best, and the half-hearted machinations of Wonderlust failed to deliver their promised Eastern-Bloc exoticism. (Meanwhile, great acts like Tender Forever and the Art Party lineup played half-empty rooms.) But with Redu's packed crowd and inimitable energy, and novel new sound kicking off 2011, it looks like we might get more satisfaction.
For more about Portland arts events, visit PoMo's Arts & Entertainment Calendar, stream content with an RSS feed, or sign up for our weekly On The Town Newsletter!