ticket giveaway
Win Tickets to Johnny Clegg + Ladysmith Black Mambazo
This Saturday at the Oregon Zoo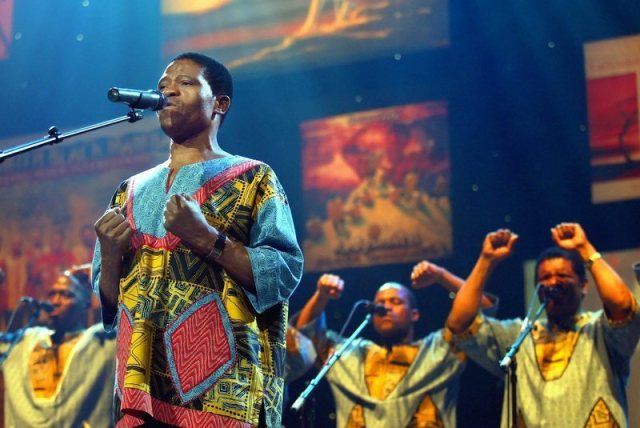 Grab your travel bag and passport; on Saturday the Zoo is taking us on a full-scale musical cruise to South Africa with two of that nation's biggest acts. First up is the Grammy-winning group Ladysmith Black Mambazo, a men's choral ensemble blending South African musical traditions with gospel that you'll no doubt recognize as providing the rich vocal backing that helped turn Paul Simon's Graceland into a classic.
Following them is one of Africa's biggest musicians, Johnny Clegg. With more than five million albums sold internationally, Clegg was so big in Europe at his height that he once caused Michael Jackson to cancel a show because Jackson couldn't compete with Clegg's audience (one French paper's headline read: "white man singing black music, out sells black man singing white music"). Musically, Clegg is like a South African combination of Paul Simon, Sting, and David Byrne, although instead of Byrne's troupe of modern dancers, Clegg mixes in Zulu traditional dance himself with help from his band. He's also an outspoken anti-apartheid activist who was arrested several times and regularly had his concerts broken up, and now counts Nelson Mandela as a friend.
Which is to say, the breadth of musical ability and historical significance of each of these acts alone is pretty incredible, but to have them both on the same bill is extraordinary.
The concert is Saturday, August 4 at 7pm, and we're giving away two pairs of tickets.
This contest is now closed. Please sign up for our weekly On The Town Newsletter for future contests.
Clegg at Portland's own Bing Lounge last year:

No strangers to dance themselves, Ladysmith Black Mambazo with Simon in Harare, Zimbabwe in 1987.

For more about Portland arts, visit PoMo's Arts & Entertainment Calendar, stream content with an RSS feed, sign up for our weekly On The Town Newsletter, or follow us on Twitter @PoMoArt! Blog content reflects the views of the individual author and not necessarily SagaCity Media, Inc.