gallery grazing
First Thursday Sampler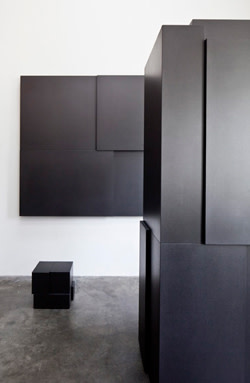 Sculpture + Painting
Julia Mangold's Drawings and Sculpture + Gregg Renfrow's Closer To The Water at Elizabeth Leach Gallery
Munich born artist Julia Mangold's minimalist sculptures involve rectangular structures coated in a mixture of wax and graphite and then fastidiously assembled into works that range from small boxes to large wall hangings to obsidian like towers. Each paradoxically seems to both shimmer and swallow light as you move through the room, the graphite coating giving the rigid geometric shapes a sensuous velvety softness. If they made a sound, it would be a soft, vibrating purr.
Where Mangold plays with the light found in darkness, Northern California based artist Gregg Renfrow's paintings are marvelously luminous. Made through his signature process of pouring polymer and pigment on large sheets of cast acrylic, he creates organic layers of overlapping colors that undulate like the ocean's surface (a departure from his previous work that involved straighter color fields in striations), their color intensity rising and lowering like waves. Set off the wall by several inches, light reflects off the wall and through them, making them practically glow from within.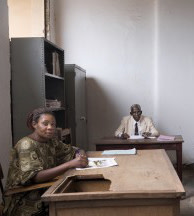 Photography: Crumbling Colonialism
Guy Tillim's Avenue Patrice Lumumba at Blue Sky Gallery
There's something strangely quiet about Guy Tillim's photographs of the crumbling architecture built and then abandoned by the European colonial powers in Africa. From Mozambique to Angola to the Democratic Republic of Congo, the award-winning South African photographer traveled the continent documenting monstrous, decaying apartment buildings and clean but ramshackle office spaces. Serious workers sit in offices that they've occupied for decades since the fall of colonialism, with little update or repair. There're gaping holes in desktops, chipped paint, and cracked concrete floors. And though you have to imagine each location is really a site of bustling activity, particularly the intersections outside the apartment buildings with only a couple individuals in the street, Tillim captures it in silence, portraying simultaneously the lingering hope of progress and the starkness of the poverty and crumbled ambitions from a history of oppression and conflict.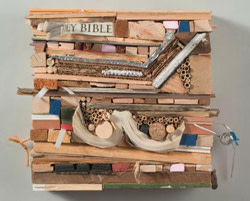 Assemblage: A Life in Wood
James Florschutz's ?Assemblage Wall Sculptures at Augen Gallery
Playing off the stations of the cross, *Florschutz*'s numbered series of Station wall sculptures are intricately ramshackle and densely packed affairs, combining sections of bibles, broken parts of rulers, paint sticks, rope, belts, altoid tins, sticks, wires, and other found items sandwiched together like geological sedimentation or orderly flood debris. Seemingly random, when you look closer at the assembly of parts, each seems like a layered wooden biography of a life told through cast offs, as if Florschutz is divining an ordered narrative in the chaos of the things we discard. More whimsical is his series of Cubis, which are colorful wood block Rubix Cube-like sculptures consisting of Tetris shaped pieces, as if Picasso had designed the Borg's ship.
Post Gallery Dance Off
Late Night Birthday Dance Party at PICA
8pm–late. 21+ only. $5 at the door. 415 SW 10th Ave
Once you've feasted your eyes, head over to PICA's two-floor, raw office space to feast your ears with a sonic buffet of dance music garnished by immersive light and video shows. Art DJ duo ? Maxximum Volume ? will create an "energy gradient" on the second floor, flowing partygoers from a zen bar zone into an industrial techno dance floor. Then travel the world and the senses with Massacooramaan, Dubai, Reznorektion Concrete Floor for a mix of house, techno, trance, industrial, and sundry things in between.
Weekend Group Show: Plein Air Paint Out
The Oregon Invitational Plein Air Weekend at the Portland Art Museum
Painting begins Saturday at 7 a.m. and goes until Sunday at noon. Exhibition is Sunday from noon–5 p.m.
With temperatures soaring into the 90s, the weekend is ripe for outdoor adventures. But if you want art with your outdoors, head downtown, where the Portland Art Museum is turning the South Park Blocks into a grand urban studio in its first celebration the art of painting outdoors, en plein air. Over 40 artists will begin at daybreak and paint throughout the day, capturing the ever-shifting light, shadows, and colors of their city- and parkscapes, all the while taking time to discuss their process with passers by. The completed works will then be exhibited for sale on Sunday in the museum's sculpture garden, along with live music by jazz/swing trio Boy & Bean, handmade ice cream from Salt & Straw, and sandwiches from Lovejoy Bakers.


For more about Portland arts, visit PoMo's Arts & Entertainment Calendar, stream content with an RSS feed, sign up for our weekly On The Town Newsletter, or follow us on Twitter @PoMoArt! Blog content reflects the views of the individual author and not necessarily SagaCity Media, Inc.