only the french
Interview: Viva Las Vegas on Her New Trio Bergerette
The group performs French love songs from the 12th-18th centuries and will play an album release concert tomorrow at Valentines at 9pm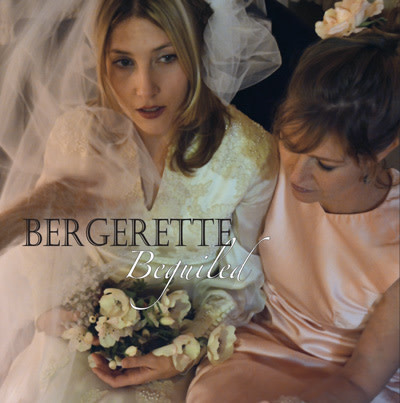 The iconic strip club Mary's might seem an unlikely progenitor for a revival of 12th–18th Century popular French music, but no doubt stranger things have emerged from its low-lit confines. Wanting to serenade Mary's Club owner, Vicki Keller, on her birthday, one of the club's most famous dancers (in addition to being a writer and musician), Viva Las Vegas, joined with former dancer Stella Pentimenti and Live Wire! performer/PICA Flash Choir director Pat Janowski to form Bergerette, a mostly a capella trio dedicated to re-discovering bawdy medieval French tunes of love and longing. Their first performance was three such songs for Keller to the hand bell accompaniment of two-dozen strip-tease professionals. But with their vocal imaginations aflame, they began a residency at the bar Eugenio's and now have recorded an album called Beguiled, which they will release this Thursday at a concert at Valentines, along with performances by Jake Ray and Paul Brainard (on loan from the Landmark Saloon) and "Incubator" founder and curator Myrrh Larsen.
The angelically beautiful songs sound like they should be performed in a church by a classical choral ensemble like Cappella Romana, but when you read the lyrics' translations—with lines like, "In this languor they cried out. Such a sweet life; these contented lovers in the middle of the forest"—you realize that many of them would go over much better at a bordello than under the Lord's roof. Seems the French have a history of hit songs about things like mutual orgasm that long predates Serge Gainsbourg's "Je t'aime (moi non plus)," which is essentially a retelling of "Tyrcis vouloit mourir" from the 1560's.
Wanting to learn more, we contacted Viva, who invited us down to Mary's to chat in between sets. "Thank you for your enthusiastic applause and for supporting the arts tonight," she said to the half-dozen men, as she finished dancing to the Rolling Stones' "Sweet Virginia."
"I love the arts," said one middle-aged guy with stringy hair and sunglasses on his head, before adding, "God bless you, girl." If he could hear her sing with Bergerette, he'd know God already has.
Culturephile: How on earth did this project come about?
From Stella. She and I both love classical music and looked for choirs and then joined the PICA Flash Choir, which Pat directed. Stella got really into it and began to look up a lot of these old songs at the library. All the songs are highly sexualized, but sound beautiful and proper. Then with Vicki's birthday coming up, Stella wanted to do something special for her. We prepared three songs and got hand bells donated. Stella's got a lot of hutzpah, so next she said, "you guys want to do a record?" And we recorded it in December.
The PICA Flash Choir is one thing, and you sing punk rock as part of Coco Cobra and the Killers. But wasn't it a bit daunting to tackle medieval French songs?
We all speak French. I have a classical music background—I'm a soprano, faking an alto to sing punk rock—and Pat has a classical background. Stella has been taking medieval music and voice lessons, and does a lot of research into the way the French language changed over the centuries. She wants us to nail the pronunciations according to the song's era. It's like she's getting a masters in medieval music, and because Pat and I are both nerds, we love it. We learn on the job drinking gin and singing music.
And it sounds like this beautiful, liturgical, sacred choral music. But in contrast, the lyrics are totally profane and worldly, like "I know that he is perfect…the perfect traitor."
There are three lines to a lot of the songs: soprano, alto, tenor. Soprano is my line, and it seems to be most of the time she's narrating what was popular in that day, like "love has taken hold of me, and it's going to kill me." And then on the bottom register [tenor], it's singing sacred Latin music straight out of the church. It's a fascinating mash-up that straddles very different eras and themes, and there's something kind of punk rock about that.
What surprised you about the songs and lyrics?
Their idea of love is backwards to us. We expect love to make you happy, but for them it brings ruin. They're happy, but then they fall in love, and love makes you full of feeling and want and is painful. The translation for "orgasm" in French is "the little death," so that's a constant refrain. A song will seem to be about death—they're trying to die together. It could be Hamlet, but it's not. It's about mutual orgasm. But you only get that if have a French background.
Where did the name Bergerette come from?
From "Nous etions trois bergerettes" ("We Were Three Shepherdesses"). It's a sacred Christmas song, and since there are three of us, that's one of the reasons. But also there are two very different reputations of the shepherdess. On the one hand she's chaste, innocent, a servant of Jesus; on the other, she's the lusty, earthy heroine of Renaissance smut lore. Bergerette, the group, likes to embody both interpretations. Also, coincidentally, a "bergerette" is a type of French song.
What's your plan for the release concert?
It's so fun to sing in rock bars where people don't expect it. It's going to be a special, saucy event. We'll play first, more towards 9, but the whole night is songs of longing. Jake Ray and Paul Brainard agreed to follow, and they do an amazing act.
For more about Portland arts, visit PoMo's Arts & Entertainment Calendar, stream content with an RSS feed, sign up for our weekly On The Town Newsletter, or follow us on Twitter @PoMoArt! Blog content reflects the views of the individual author and not necessarily SagaCity Media, Inc.