Bluegrass in the Boonies
String Summit: Yonder Mountain String Band
Lookie Yonder! Culturephile interviews Yonder Mountain String Band at Northwest String Summit.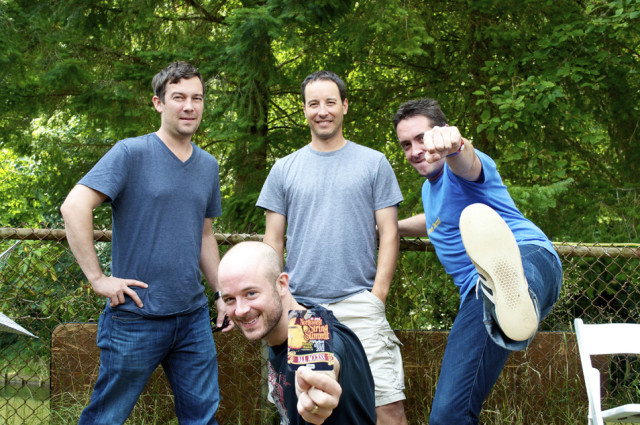 Last Thursday, August 9, thousands of festival-goers streamed into the verdant Horning's Hideout—a venue treasured for its prolific shade trees, audience-friendly concert bowl, and easy access from downtown Portland—ready for a weekend of sun, sweat, and bluegrass. (And sweat there certainly was, with a minor car crash sidelining the shower-truck en route to the event—news at which most audience members, this author not included, cheered their approval).
From Thursday afternoon through the late hours of Sunday night, the venue's two stages hosted a series of celebrated bluegrass and newgrass/rock/indie/folk/country musicians, often joined by exciting (and equally excited) newcomers to the festival circuit—but the undisputed rulers of the roost were Yonder Mountain String Band, who headlined the event, playing two main stage sets three of the four nights.
The Colorado-based bluegrass group has been with this fest since its inception—and, believe it or not, they just inked a contract to return each summer for the next 20 years! A rare if not unprecedented "get" on the festival circuit, the agreement brands the band as lifelong musicians, and binds String Summit to what seems like an emerging small festival booking model that favors long-haul loyalty-creation over new artist acquisition.
In the early hours of the event, mandolinist Jeff Austin, banjo player Dave Johnston, bassist Ben Kaufmann, and guitarist Adam Aijala reminisced with Culturephile about the first 11 years of the festival—and looked forward at the 19 summers to come.
Humble Beginnings
In late 1998, YMSB played a private party, where they were invited to the following summer's RockyGrass Festival. "What that did for us was it set up a trigger, where we said—it's December now, we've got until July, so let's f***ing pick," says Austin. And pick they did—seven months of hard work later, the group took the stage, and have remained a mainstay on the bluegrass festival circuit since.
Fourteen years later, Yonder Mountain brings this lesson learned to String Summit, fostering a renowned spirit of collaboration and mentorship among performers new and old. And audience members happily reap the benefits. From impromptu collaborations between genre greats (Kaufmann excitedly recalls a set with guitarist Bill Frisell) to the "discovery" of acts on-the-rise, in the first 11 years of the festival, there have been more than a few noteworthy musical moments.
A Brush with The Dead
In 2010, Mickey Hart and Bill Kreutzmann of the Grateful Dead joined Yonder Mountain on stage, leaving the Deadheads in attendance speechless, and the band equally floored. Austin, already known for his exuberant on-stage facial contortions, looked like "a kid in a candy store."
Saving The Salmon
In 2008, at Yonder's gentle prodding, then-disbanded jam-grass group Leftover Salmon took the main stage for a reunion performance, and haven't quit performing since. "Now, I'm not going to say we got Leftover Salmon back together," jokes Kaufmann, "but… we got Leftover Salmon back together."
Mutual Admiration
For the group, part of the String Summit draw is the opportunity to create real and lasting relationships with their musical idols. "People you respect become your friends, and then they're up on stage just killing it, and you think, this is why you're a hero of mine. Not just a friend, but a total hero of mine," says Kaufmann. But it's not just their own experiences they look forward to. "This isn't just about us," he continues. "There are musicians who will play here this weekend, and they'll have a pick backstage with Darol Anger, and it will change their lives. Really, though—bands in their first year here, they get to play with Darol or Danny Barnes, and that is a huge step. That sh** is real, and that sh** is contagious."
The Next Crop
The Shook Twins, a Portland-based "quirky folk" duo (and yes, they're really twins) rocked the second stage on Friday night, then went on to join Elephant Revival, who hail from the same Colorado neighborhood as Yonder, on stage on Sunday. Joy Kills Sorrow and the Deadly Gentlemen also put forth solid performances.
Yonder Mountain was especially eager to watch newcomers Windy Hill Bluegrass, who earned their spot on the Saturday afternoon main stage lineup by taking the top spot in last year's band competition. Watching younger groups find their footing takes the band back to their own experience over a decade ago. "So here's this band, and they've done great," Austin said. "And now they've got a year, so let's see what they've got. What a thing to look forward to! I just saw them on the bill for a show we just played, and I thought, 'Well, sh**; would you look at that.'"
The Summit is Tops
For festival-goers and performers alike, String Summit offers something special. "You'll see things at String Summit that don't happen if everyone just goes up and plays their scheduled set," says Scott Law, the Portland-based guitar and mandolin player who along with local hero Tony Furtado performed as the Banjo Killers. "There's a lot of cross-pollinating, and it's those kinds of unexpected things I really appreciate about it."
In other words, though they know where they'll be for the next 19 summers, YMSB promises to stay full of surprises.