supernatural skills
Nerding Out Over ParaNorman
In the following teasers, creator Chris Butler and others explain how they made their forthcoming spooky kids' movie ParaNorman. Former insider Anne Adams provides a little context.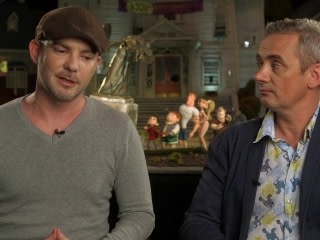 You have to watch yourself around animators. "Do that again!" they'll bark in the middle of conversation, asking you to back up and repeat an expressive gesture. Next thing you know, they'll have some little puppet perfectly mimicking a shrug, a wince, a wink. Animation is about absorbing the tiniest details of real life, translating them to fit fictional characters, then re-processing them in the most methodical way—frame by frame—until you've built a fantasy world, rich with realistic subtleties.
How do I know? As an art department assistant at LAIKA during the making of Coraline (before my tenure at Portland Monthly) I observed the process up close. I also learned of forthcoming zombie flick ParaNorman when it was still just a glint in the eye of then storyboard artist Chris Butler. Beloved on set for his irreverent humor and diligent inclusion of delightful little details in every still frame he penned, the mischievous Brit was a crew favorite long before he was the man in charge. (Heck, he was even the guy who drew everybody's birthday cards.)
Still humble and personable despite his new co-directing credentials with veteran kids' feature maker Sam Fell, in this teaser, Butler explains his close connection to the character of Norman. (Probably magnified by those clever LAIKA animators who, as they worked alongside him, undoubtedly let their Norman puppet take on some of his ways.)
In this segment, other crew members share "making of" details. Whether or not you're into zombies (confession: I'm usually not), I encourage you to view this film as a masterpiece of Oregon-made handicraft.
But enough talk. Planning to see it this weekend? Check out the following trailer and leave your two cents in our "comments."
For more about Portland arts, visit PoMo's Arts & Entertainment Calendar, stream content with an RSS feed, sign up for our weekly On The Town Newsletter, or follow us on Twitter @PoMoArt! Blog content reflects the views of the individual author and not necessarily SagaCity Media, Inc.