rumba through the animal kingdom
Win Tickets: Pink Martini at the Zoo!
Saturday, Aug. 18 (sold out) & Sunday, Aug. 19 at 7pm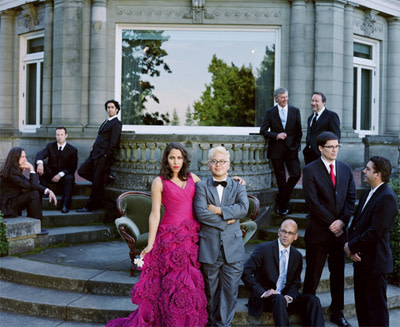 Like a trip to Haystack Rock, a Gus Van Sant sighting, and complaining about the crowds at First Thursday (and Last Thursday, for entirely different reasons), seeing the globe-trotting band Pink Martini at the Oregon Zoo is one of those things every Portlander has to do at least once to truly call this city home. The Zoo's global safari through the animal kingdom provides the perfect backdrop for Pink Martini's own global voyage through the musical kingdom, from Japanese Noir to Parisian jazz to Brazilian Bossa Nova.
Of course, tickets generally sell out, so you have to plan ahead (this year, Saturday is sold out; there are still tickets for Sunday). But Culturephile's got a couple of lucky winners covered: we're giving away a pair of tickets to each show.
Special guests will include the Japanese actress and singer Saori Yuki (widely considered the "Barbara Streisand of Japan") and Portland's own PHAME Choir.
Click here to win tickets to Pink Martini on Saturday, Aug 18 or Sunday, Aug 19.
This contest closes on Monday, Aug. 13 at noon.
For more about Portland arts, visit PoMo's Arts & Entertainment Calendar, stream content with an RSS feed, sign up for our weekly On The Town Newsletter, or follow us on Twitter @PoMoArt! Blog content reflects the views of the individual author and not necessarily SagaCity Media, Inc.