Drink Locally
The Saddest Little Bar in Town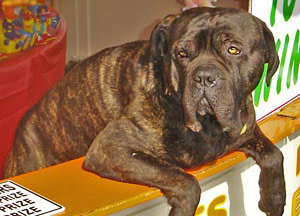 For you, my dear drinking buddies, a mystery. I recently spent an hour in one of the most wretched excuses for a bar I've encountered this side of Tierra del Fuego. It was situated not in some hayseed hole-in-the-wall en route to Gresham, but smack-dab in the middle of a bustling, hipster 'hood. Your task will be to guess the identity of this unfortunate establishment.
The bar, formerly a modest music venue, had changed hands in December. The current incarnation took its name from the owner's 180-pound English mastiff, a hulking creature that stumbled down the stairs to greet us upon our arrival. The dinky bar fronted a sink, an ancient Philco fridge, and a small, haphazard collection of booze bottles on a shelf. It was a very humble, DIY setup, kind of like a communist's idea of a decadent, Western rumpus room, perhaps gleaned from really old magazines. Heart-shaped balloons and a few mopey Cupids were strewn artlessly about.
"So you guys had a Valentine's Day party?" I asked the sullen bartender, who was testing her knowledge at the video trivia machine. There was one other customer, a skeevy bearded guy who was wolfing down a grilled-cheese sandwich with the unbridled zeal of a shipwreck survivor.
"Nobody came," she replied wearily, getting up from the machine to take our drink orders. The "specialty cocktail" list was scrawled on a nearby dry-erase board, with each day of the week having it's own $3 offering. The drink of the day was a Bloody Mary, so we decided to indulge.
I suppose we should have known we weren't in the presence of a master mixologist as we observed the bartender's prolonged struggle to assemble our drinks. Dynasties rose and fell as she puzzled out the ingredients, finally liberating a forlorn bottle of tomato juice from the Philco. The results were ghastly: imagine off-brand ketchup spiked with iodine—or better yet don't. I immediately reached for the Tabasco sauce and gave the miserable concoction a thorough soaking. I looked over at my friend who appeared to be on the verge of tears. "I can't drink this!" she wailed.
"How are those drinks?" the bartender inquired with a knowing smirk. I can't remember what we said in return, but I'll wager it was diplomatic enough to fool Henry Kissinger.
At this point, the proprietor, who was either a semi-prosperous hobo, or was blissfully unaware of a new invention called the iron, bounded down the stairs. He stopped to scratch his dog, who was stretched out at our feet like a huge, panting sofa. "This guy can eat 21 Whopper Juniors," the owner declared as an icebreaker, indicating his hound. "And he buried four others!" Resisting the urge to phone animal control, I made chitchat with the owner as my friend thoughtfully poured her Bloody Mary into my glass. Then the bearded guy started blathering about the Sam Adams scandal. Time effectively stopped.
Somehow I managed to dry my tears and choke down the Tabasco-saturated cocktail so we could make our escape. "Come back soon," the owner called after us. Yep, I'll be back for another visit right after Madonna wins an Oscar (for acting) and the Trail Blazers trade Shavlik Randolph for Dwight Howard, straight up.
Can you name this bar?