Good Eats
Monday Morning Edibles
A quick taste of Portland goodness to jumpstart your week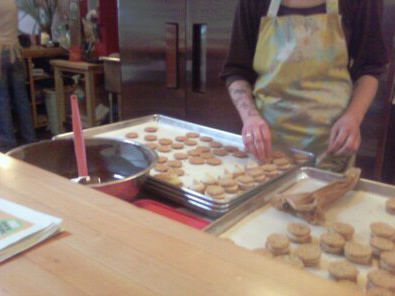 Mondays are difficult, but especially difficult today. Just as I arrived to consume one of Bunk's wonderfully porky breakfast sandwiches, which are critical to the inauguration of my work week, I learned that Bunk will be closed until next Monday. For those of you who've never had a Bunk breakfast sandwich, it goes a little something like this: hard Kaiser roll, perfectly yolky over-easy ovum, one's choice of pork, and shredded cheese (key to the process of melting). My personal preference is to add a side of anchovies, a combo that came highly recommended by Shawn Khoury, the friendly Canadian at Bunk that bears a slight resemblance to a young Fidel Castro, during his baseball playing, law-practicing, pre-revolutionary days. If you haven't tried this flavor combination, which works best with the pork sausage, then you simply must. Gross as it may sound to the the anchovy agnostic, it's absolutely brilliant.
All is not bad. Come to find out owner Tommy Habetz is heading to North Carolina for a research trip. So while the rest of us will be without our sandwich fix until next week, know that Tommy will re-emerge in late April replete with Southern-fired inspiration. There are worse things. In the meantime, there are other great sandwich options nearby: Michael's for good old-fashioned red-blooded Chicago-style sandwiches like sausage and peppers, or the excellent Meat Cheese Bread, where the infamous BLB (Bacon, Lettuce, and Beet) rules the day.
Elsewhere in Portlandistan, there are plenty of new options. Just today, a new food cart called Grilled Cheese Grill opened near the intersection of 10th and NE Alberta. The offerings are simple, melted, and just plain brilliant. Who could possibly find fault with a menu that specializes in thirteen varieties of the ubiquitous grilled cheese sandwich? Offerings range from the standard cheddar on white bread to more ambitious concoctions like the "Pops," which features tomato, havarti, and honey mustard on cracked wheat. Best of all, nothing tops six bucks.
The food cart phenomenon is getting out of control. It's now estimated the Portland has as many as 200 mobile kitchens, with many more on the way. Though a new one seems to open and close every week, many of the originals still remain. Of all of them, I frequent Spella Caffe most often. The espresso cart at SW 9th and Alder makes one of the best Italian-style cappuccinos in Portland. And now that the weather is nice, proprietor Andrea Spella has reintroduced his affogato, which is scoop of housemade gelato with a shot of espresso. It's absurdly good.
Speaking of dessert, check out the photo above. Those are Two Tarts Bakery's wonderful peanut butter crème sandwich cookies being assembled. What a great way to start the week. Shortly after taking this photo, I ate three of these and even asked to lick the spoon. My request was granted, my wife was embarrassed, and I was once again reminded why I visit this Northwest Portland bakery nearly every Sunday of my life in Portland. Where else can you lick the spoon?