Smoking Ban
Smells Like Clean Spirit
After playing in smoky dives for the last 25 years, my lungs are breathing a sigh of relief.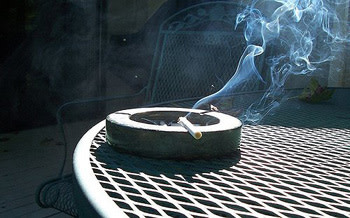 Just a few items from a big rock weekend.
In case you missed it, my band, Giant Bug Village, tore it up at the East End on Saturday night, along with Tigerbomb and Pure Country Gold. Three cool bands, no cover.
The East End is a really fun club and I'll tell you why. It's got three different rooms for hanging out. Four if you count the smokers' tables out front, and five if you count the long, long line to the bathroom. Six if you count the photo booth! Also, the sound in the brick rathskellar is superb. Instead of the usual sonic suck-fest, I could hear every note from my bandmates which greatly improves one's performance.
Also, the East End serves 24-ounce cans of Pabst and Tecate, which makes for an ideal stage beer while you're playing. Instead of having to keep track of a couple pint glasses—one of which will eventually topple and spill into my amp—I have all the suds I need in one sturdy can. If you need more than a pounder-and-a-half to keep you lubricated through a 35-minute set, a few weeks of drying-out time might be in order. Unless you're our singer Stan McMahon, in which case one beer per song is about par for the course.
But my greatest discovery of all was how much I love the smoking ban. At the end of a five-hour night my lungs were still robust and functioning perfectly. Used to be, I'd be coughing and hacking for three days after a show, a condition we referred to as "club lung." Better still, my GF doesn't banish me to the couch for stinking like an ashtray.
What do you think drinking buddies? Has the lack of ciggie smoke adversely affected your bar-hopping experience? Or are your lungs still thanking you for all that pure, untainted oxygen?