Cocktail Culture
Flower Power
A toast to St Germain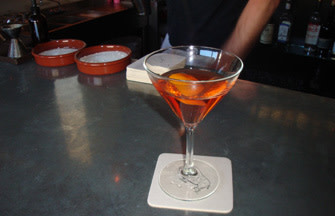 There's nothing a rank amateur mixologist such as myself enjoys more than getting schooled by a master. Seriously, it's like finding out how the rabbit gets in the hat or how the quarter gets in my ear. And since our current issue is a big sloppy kiss to all things cocktail, I thought I may as well follow suit.
Blogger and bartender Jeffrey Morgenthaler has been shaking up drinks for nearly fifteen years, and as the recently installed bar manager at Clyde Common, he's got some creative leeway when it comes to new drinks. His most recent inspirations are the Caneflower and the East of Eden, both of which make judicious use of St Germain elderflower liqueur, a sweet and electric floral fluid made from elderflowers lovingly harvested from the slopes of the French Alps by monks living under a vow of silence in order to preserve its mystique. OK, I made up the last part, but it sure sounds enchanting. In reality, this sunny spirit has been making appearances on bar menus all over town, usually paired with a sparkling wine, such as Wilf's St Germain Sparkler.
The intrepid Morgenthaler explains that St Germain has sort of a cult following, partly due to some good marketing, and partly because of its versatility. "Put it with soda, on the rocks, with a twist, with champagne, it works," he says. "It's got a unique taste, with a lot of depth and character." For that matter, it's excellent straight, or with a little tap water. And Jeffrey believes it's got staying power on the local front. St Germain is simply too good a product to be relegated to fad status.
The first drink he sets in front of me is the Caneflower (not currently available at Clyde Common unless you ask Jeffrey to make you one) and it's a delicate little thing, with the warm sweetness of the elderflower working beautifully in concert alongside a pour of cachaça, a lively distillation of Brazilian sugarcane. It's bracing but substantial; teasingly bitter but not overly so, and with a spicy undercurrent thanks to the Aperol. "I only use a tablespoon of St Germain, because I want to pull out the citrus notes of the cachaça," Morgenthaler says.
"So you use it as a spirit guide," I answer, using a term I picked up from an old Native American acquaintance.
"Exactly!" he says.
The Caneflower
1 1/2 oz. Boca Loca cachaça
3/4 oz. Aperol
1/2 oz. St Germain elderflower liqueur
Stir with cracked ice and strain into a chilled cocktail glass.
Then came the East of Eden, and baby, I'm in love. Light, fruity, frothy, and downright delightful (and anyone who knows me will vouch for the fact that "delightful" is not an adjective I throw around lightly), it's a warm-weather winner, although I can see myself ordering it pretty much any time during the calendar year.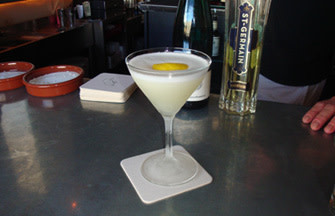 East of Eden
1 1/2 oz. Bombay gin
1/2 oz. egg whites
3/4 oz. fresh lemon juice
1/2 oz. Gewürtztraminer reduction
1/4 oz. St Germain elderflower
Again, shake with cracked ice and strain into a chilled cocktail glass.
After exchanging some more superlatives as to the brilliance of St Germain, the Alps, and elderflowers, I teeter my way back to the office, thanking Jeffrey for his expert instruction.
So what do you think, drinking buddies? Will you take St Germain for a test taste? You'd better! And if you have any drink recipe ideas for this magical elixir, by all means send 'em this way.