Rock the Clubs
Holy Cow! It's Sleepy LaBeef!
Rockabilly legend hits Dante's next Tuesday.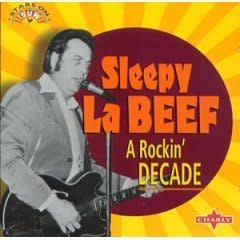 Damn, I knew this was coming up, but I completely spaced the fact that this show is one week from tonight! Seventy-three-year-old Sleepy LaBeef, the six-foot-seven country and rockabilly singer from Smackover, Arkansas, will be at Dante's, April 14. Not only has this big man with a booming voice been recording for more than 50 years, he knows thousands of songs, and once played a swamp monster in the 1968 horror-musical film The Exotic Ones.
In the words of Elvis biographer Peter Guralnick, "Over the years I've seen countless performances by Sleepy LaBeef. Whether it's opening a big air open concert for Willie Nelson, playing an out-of-the-way New Hampshire roadhouse, headlining at a punk club or a European rockabilly festival, or making one of his regular stops along the endless road, Sleepy never fails to satisfy. Rearing back into his well-publicized knowledge of over six thousand songs, Sleepy moves easily from country to blues to rock 'n' roll, gospel, Cajun, or rhythm and blues: uniting them all under the all-encompassing definition rockabilly—which to Sleepy represents nothing less than freedom."
Do not miss this man.
Take It Away Sleepy!