Kudos, kudos
High Five For Jeffrey!
Playboy recognizes talent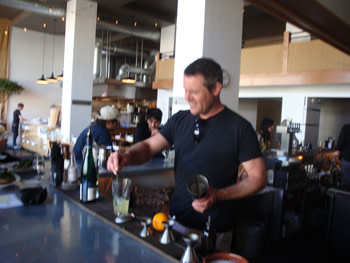 Can I pick 'em or what? Less than a week after my chat with Clyde Common bar manager Jeffrey Morgenthaler about the wonders of St Germain elderflower liqueur, the man himself is named one of the 10 top mixologists in the country by Playboy magazine. I had no idea my humble blog had that kind of influence, even though Hef and I go back a long way. Early on, he tried to bring me on board this whole Playboy thing, but I told him in no uncertain terms, "Hugh, I love you man, but lounging around in my robe with a passel of pulchritudinous gals in their unmentionables—what kind of life is that? I mean, really?"
Congratulations to the esteemed Mr. Morgenthaler and may your martinis always be dry as Death Valley.
I was not going to run this lousy photo of Jeffrey (he just wouldn't hold still while he was making my drink) but under the circumstances we'll give quality control the day off.