Pop Culture
Mystery Men
MST3K cast is coming to town for two nights of movie mayhem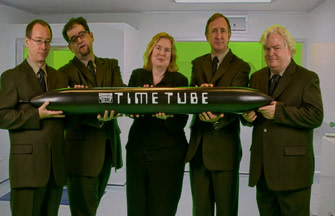 Wow. Just wow.
This post is a little off my usual bar beat, but I just couldn't sit on it any longer. Joel Hodgson and most of the cast of Mystery Science Theater 3000 (pictured) are coming to town at the end of this month for two live shows at the Newmark Theatre.
This may rate a "ho hum" on your "wow" scale, but for me it's like Zeus, Bob Dylan, and the Harlem Globetrotters dropping by my condo for Little Debbie cakes.
Hodgson's Mystery Science Theater 3000 ran on Comedy Central and the Sci-Fi Channel from 1988–1999, though Hodgson left the show in 1993. It was MST3K that introduced the concept of "riffing" on bad movies—essentially making snarky, off-the-wall comments throughout—thus making them infinitely more fun. And thanks to MST3K, the world came to know the wonder and majesty of really, really awful films that Hodgson and his co-horts rescued from some obscure Hollywood Dumpster. Now when you mention flicks like Mitchell, starring rotund tough guy Joe Don Baker, or Manos: Hands of Fate, starring … nobody you've ever heard of, a glimmer of joyful recognition will register on the face of 1 in 10 or so. Italian muscle-man movies, guy-in-rubber-suit epics from Japan, and excruciatingly bad drive-in fare from gloriously inept filmmakers like Ed Wood, Coleman Francis, and Al Adamson were all fair game for Hodgson and company's rapid-fire razzberries.
I worshipped this show like a devout pilgrim, as did thousands of other die-hard fans (known as MSTies), and dutifully programmed my piece-of-crap Emerson VHS player every Saturday morning to record as many of its 199 episodes as I could. As a result, and as anyone who knows me will attest, my absolute dream job would be to sit in a dark theater hurling insults and epiphanies at Z-Grade horror and fantasy films. Hell, I've got over 40 years of experience!
Hodgson, and original cast members Trace Beaulieu, Frank Conniff, Mary Jo Pehl, and Josh Weinstein -(also a writer for The Simpsons)- will be here under their new moniker, Cinematic Titanic, firing puns, pop culture references, and zesty zingers at two different movies May 29–30; the kung fu blaxploitation flick East Meets Watts, and a mad-scientist stinker from the Phillipines called Danger on Tiki Island. I doubt you'll find much info on either film from Google, as they've probably been renamed a bunch of times.
Stay tuned for more details as I'm hoping to snag an interview with Hodgson some time this week. Tickets are available through the PCPA box office or Ticketmaster. Meanwhile, here's a shout out to fellow MSTies everywhere.