Happy Hour
Happy Hour of the Week: Trees
Happy hour bounty in the heart of downtown.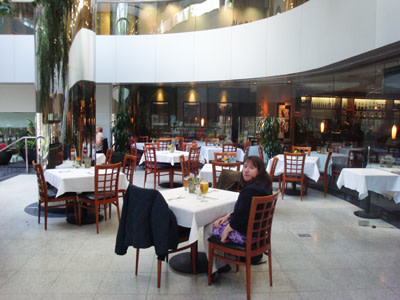 As long as we're on the subject of happy hour, here's a bat that gets stuck in my afro: when a restaurant or bar trumpets happy hour specials, and they turn out to be lamer than Gregory House. Like 50 cents off some cocktail you'd never order in the first place (yes, I'm looking at you, appletini!), or a reduced rate on a plate of vulcanized hot wings. Woop-dee-doo. We can do better.
Located right across the street from City Hall, in the lobby of the Key Bank Building on SW Fifth Ave (ideal for you Randy Leonard groupies), is Trees Restaurant and Catering, a dapper little eatery in an airy atrium setting. Trees has decent comfort food, but more importantly, a bountiful happy hour menu. Three tender barbecued pork sliders and coleslaw for $3.50 is a terrific way to unwind after a performance review in which your boss indicated that your value to the company is only slightly greater than that of the stick that props open the window on hot days. The house salad ($3) is at least plate-size and comes with blue cheese, mandarin oranges, and honey-roasted sunflower seeds.
How about a very respectable meatball sandwich and side of seasoned fries for $4? Or a quartet of loaded flatbread pizzas for $5? Not bad, dude.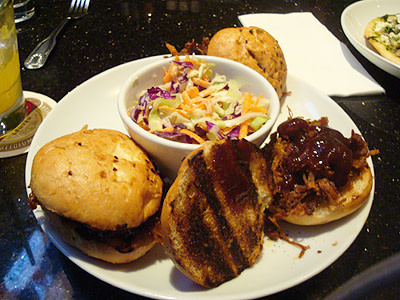 There's typically a $4 cocktail—on my first visit it was a properly potent gimlet in a fathomless bucket glass. "But Bar Pilot," you exclaim, "I had to clean out the office fridge today! My nerves are frayed to the snapping point! I need beer, stat!"
Fear not, little cubicle drone. Trees offers a micro pint of something worthwhile for $3 (Ninkasi IPA on this day), and if you have a hankering for a more formidable tankard of ale, you can test your mettle with a 24-ounce mug of craft beer for $5. Service is fast and borderline obsequious. Working late? Happy hour stretches to a very civilized 7 p.m. Go climb the Trees and enjoy the amenities. You may not want to come back down to earth.