Happy Hour
Happy Hour of the Week: Hobnob Grille
Not so tropical, but the drinks are kickin'.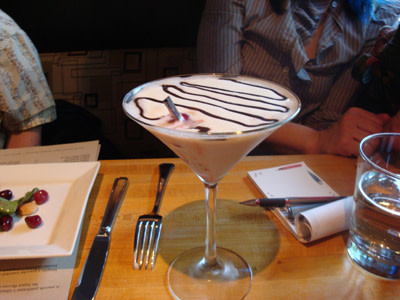 I make a quick perusal of the premises at Hobnob Grille and discover that something is missing: the floor is spotlessly clean, and there's not a peanut shell to be found anywhere. Hobnob Grille is located in the former home of (in chronological order) Sweetwater Jam House, Salvador Molly's, and Calypso, at the corner of SE 34th Avenue and Morrison Street, but the established tropical theme has gone bon voyage, as the new regime favors roomy booths, solid American comfort food, and a delightful drink menu.
After registering my standard complaint about happy hours that end at 6 p.m. ("Happy, my ass! I just got here and I get a whole five minutes to decide what I'm having?"), I order the drink of the day ($3), the seasoned fries ($2), a plate of calamari ($4), and the flatbread pizza ($4). My ire over having to make hasty decisions is lessened by the arrival of the Northwest Basil, a mojito variation that positively sings on the palate. Made with Medoyeff vodka, apple cider, and heaps of basil, the proportions are precisely poured and blended, the result a refreshing wash of sweet, sour, bitter, and sharp fruit notes. My friend Lucy opts for the Pink ($7.50), an even fruitier concoction, featuring vodka infused with blueberries and raspberries, and a pretty candied rose petal floating merrily on top.
The waitress explains that the drink of the day is the first cocktail ordered on a given afternoon. I make a note to have one of my unemployed friends show up at Hobnob the next day at 4:01 p.m. and order a Long Island Iced Tea.
The chow isn't as exotically ambitious as the Caribbean cuisine of yesteryear, but it's a heckuva lot less spotty. The flatbread pizza is loaded with onions, red peppers, and mushrooms, and even after a healthy period of time elapsed, it remained firm and flavorful, worth cleaning the plate over. The fries are fine, but the addition of a curry-infused ketchup really gets this side dish up on its feet. The calamari is served Cajun style, seasoned with red pepper, onions, and garlic, and four bucks gets you a mess of it.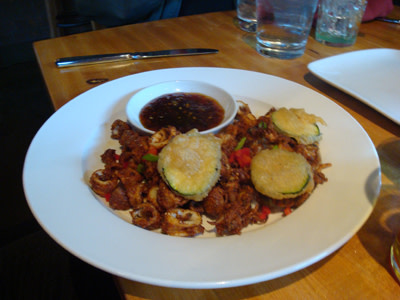 My late-arriving friends miss the happy-hour cutoff, but seem content with the full-price dinner options like steak and fried chicken. Perhaps due to the potency of our cocktails, one of my drinking buddies and I split a chocolate martini. Normally, I'm a traditional kind of guy when it comes to martinis (always gin, never vodka), but the prospect of a drink made with Godiva chocolate and house-made chocolate-and-vanilla vodka makes me rather giddy. This cloying cocktail is as thick and rich as a drive-in milkshake and the chocolate-vanilla blend is dreamy. Between the two of us, we can't conquer such a caloric confection, and it takes several passes around the table before it's drained, leaving my crew and I happy and sated. Even a contingent of braying asses hollering at the televised sporting event at the bar can't dampen our goodwill.
Now if I can only prevail upon the Hobnob Grille's management to keep happy hour intact for another hour, all of my thumbs will be up. It's a pleasure to find a decent happy hour in Southeast Portland, mere blocks from my abode. It makes homeward navigation so much less stressful.