Lunch Music
Just Plain Folk
Are 12 Shades of Schwilly Silly the next big thing? Sure! Why not?
Ah, the joys of communal street life in the summertime. I was just waiting for a couple of tacos at the SW Fifth and Oak food carts when this scruffy little ensemble struck up a merry drinking tune. They're called 12 Shades of Schwilly Silly (sp?) and they're a free-range musical collective with members from New York, Eugene, Boston, Louisiana, and wherever else they happen to land. Originally I just wanted to check out the cute girl playing the saw, but the Shades' spicy camp stew of folk-gypsy-Tom-Waits-Pogues-Weill-pirate shanties proved totally captivating. Sal the guitarist described their music as "that feeling you have when you wake up from a great dream and realize you've wet the bed." They'll be around for a while, and their plans include a house party on Friday somewhere in Southeast. I assume they'll be playing at it and not just soaking up the beer.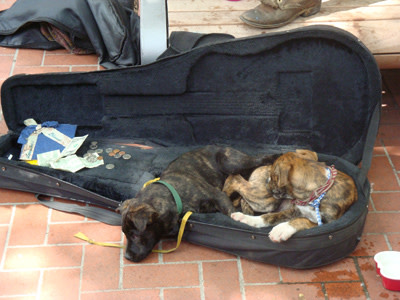 And someone dug their sound so much that they tipped the band a pair of puppies!
Sigh. Theirs is a path I might have chosen had I not opted for four walls, three dogs, a fiancée, and crippling debt. As a middle-aged desk jockey, am I allowed to envy these rambling ragamuffins and their nomadic lifestyle? How say you, drinking buddies?