Summer Drinking
Lemonade Stand
Strawberries. Lemonade. And local vodka. I'm so there.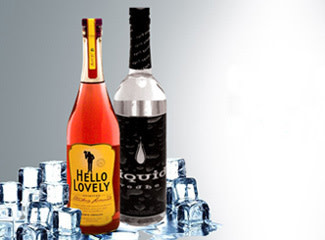 I got stinking drunk on Mike's Hard Lemonade a few weeks ago and woke up with a hangover that can best be described as King Kong river-dancing on my brainpan. Vile potion! So it was with lingering memories of cranial devastation that I read a press release this morning about Hello Lovely, a blended strawberry-lemonade cocktail from local spirit purveyors Northwest Distillery, best known for its Liquid Vodka brand (which of course spelled d-o-o-m for my freeze-dried vodka operation—damn!). Owner Meghan Zonich says Hello Lovely is made from natural ingredients (local strawberries!), and there's not a hint of high-fructose corn syrup to be found in the mix. "We launched it last summer in a limited test-market run, and the demand was overwhelming," she tells me. Meghan also steers me to the website for some swell cocktail recipes. I suggest one with iced tea, and she seems intrigued (or at least polite).
Mmmm. Spiked strawberry-lemonade iced tea. It'll be like Arnold Palmer crocked on the back nine at Augusta. Time to get to work. After all, it's well past five o'clock in England, so I'd best dispatch an intern to the nearest vodka vendor posthaste.
"Hey! Sam! It's happy hour! Hop down to the boozer and snag me a bottle of Hello Lovely! Yeah, I'll getcha back next week, buddy, promise!"
Stay tuned.