Rock the Clubs
Forever Fresh
I never knew I was a Young Fresh Fellow before.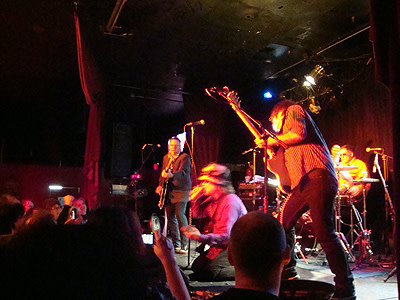 For me, going out to a rock show means looking straight into the cruel, bottomless eye sockets of death. Yes, I know I'm being a melodramatic wuss.
See, I don't go out much anymore. Covering the local music milieu for more than a dozen years has taken its toll on both my hearing and my patience, and these days my love of rock 'n' roll is mostly platonic. If I'm seeing an up-and-coming band, I am invariably the oldest duffer in the room, except for the odd parent or two. Being reminded of your dwindling vitality is a drag, and having to get jacked on Pepsi to stay alert wreaks havoc on my stomach. If I'm seeing an old standby, I'll run into people I've known forever, but they'll be out the door early because they have to get the sitter home. Or, more likely, they've become broken-down shells of their formerly dynamic selves. I put myself in this category. Hand me my shawl and help me into my rocking chair, won't you, young fellow?
But a blazing set by the Young Fresh Fellows at Dante's, part of a lethal triple-threat lineup last Saturday, was invigorating. I felt like Don friggin' Ameche in Cocoon or something. I may even have danced, but that part could have been a dream.
It's such a bonus to get three worthy bands at one show. Nothing kills an evening's momentum more than having to sit through an endless set by some no-talent friends of the doorman who managed to weasel their way onto the bill. And can we agree that four bands on one bill is too many? Good.
It was a pleasure seeing From Words to Blows, the new group led by Jesse Emerson, a cool guy who's patiently stood in the background playing bass for bands such as the Flatirons and Amelia. Now he's got a guitar and a whole string of songs that fly out of him like subtle, puzzling pop darts that always hit their target. Still trying to come up with a decent style description. Can music be dark, pensive, and fun? Apparently. The lovely Susannah Weaver (aka Little Sue) plays bass and sweetly sings backup, and Steve Drizos from Jerry Joseph and the Jackmormons hits the drums like they owe him money. Normally the two of them would be joined by Decemberists' keyboardist Jenny Conlee, but she's currently on tour making loads and loads of cash.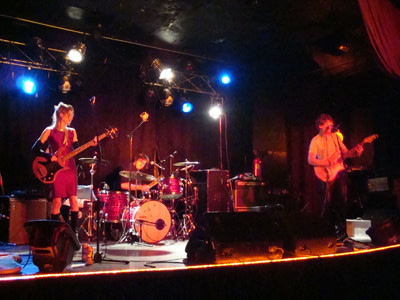 The Tripwires, fronted by Jon Ramberg, are an enviably catchy group that sound like Squeeze or Elvis Costello with just a hint of roots-rock toughness baked into the crust.
As for the headliners, if you've never seen the Young Fresh Fellows live, you are truly bereft. Showering the crowd with everything from loony power pop to rude riffage, and showing no signs of decrepitude after 25 years of servitude to the dark gods, this wily ensemble boasts a four-star songwriter in Scott McCaughey, who's usually busy with his primary band the Minus 5. Bassist Jim Sangster (also a member of the Tripwires) bounces on the bottom end, pushed along by one of my favorite manic (maniac?) drummers, Tad Hutchison, who likes to tell corny jokes like, "Hey Scott! Did you hear I got laid off from my job at the orange juice factory? They said I couldn't concentrate!" Lead guitarist Kurt Bloch is not only a primo songwriter in his own right, he can also play Queen's "Brighton Rock" note for note. Mixing YFF staples such as "My Friend Ringo," "Taco Wagon," and "I Don't Let the Little Things Get Me Down," with zesty material off their brand-new release I Think This Is, this quartet of geezers my own age, entirely satisfied with modest achievements and a terrific repertoire of songs, relentlessly kicked ass and jumped around like grasshoppers on a griddle. It did my old baboon heart a world of good.
Hell, I'm getting the band back together! Look out world! Never mind the Metamucil!