Barbecue Etiquette
Ask Barbecue Bill
What should I bring?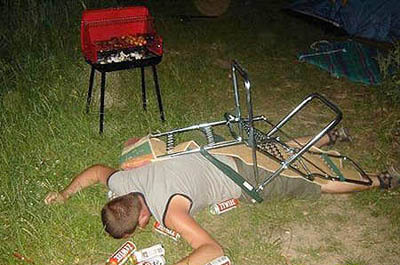 Greetings good people of Bloggerville!
My buddy John Chandler is out this week practicing the camel walk for an upcoming So You Think You Can Dance? audition, so he turned things over to me for a little while. You can call me Barbecue Bill, or you can call me Bill, or you can call me the Billy Club. Just don't call me late for the damn cookout! Haw!
Bar Pilot Chandler sent me some miscellaneous items from his mailbag that appear to require my expertise, since they have to do with the subject of backyard socializing. Man, so many questions! What's the ideal cut of meat to slap on the grill? If I'm the host, how much beer should I have on hand? Should organized games be part of the barbecue? Well, sir, I'll do my best to get to these questions in good time. Right now, I got this little booger of a conundrum to think on.
"I'm a vegetarian and I get invited to barbecues all the time. What should I bring that doesn't make me stand out like some kind of hippie, beef-hating freak?"
Good question!
First of all, don't be coming around with none of those veggie burgers, 'cause they taste like a cow flop. Hell, if I see someone coming to my barbecue with a platter of them soybean patties, I yell, "Tango!" That's the attack word for Otis, my Rottweiler. You'd best be fleet of foot, my friend, otherwise Otis will be dining on rump roast, and you don't want that.
My advice is to stuff yourself full of garbanzo beans or falafel or whatever rabbit food that you people eat before you arrive. Then show up with a vegetarian dish that everyone will like. I would suggest any combination of the following:
Frito's
Spicy three-bean dip
Beer (lots)
Yukon Jack
Peppermint ice cream
Mike's Hard Lemonade
If you put your mind to it, there's all kinds of options available that won't earn you a trip around the yard with Otis. You got questions for Barbecue Bill? Let's have 'em!