Happy Hour
Happy Hour: Metrovino
Taking the sting out of ordering wine.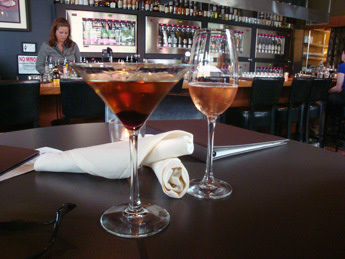 Confession is good for the soul. Lurking amid my vast knowledge of alcoholic beverages, there is a gaping hole that yawns wide and cavernous (and I appreciate you not calling me out on it). The fact is, I don't know squat about wine. There, I said it. True, I enjoy a glass of the stuff now and again, and I have a deep affection for the spicy pinot gris of St. Innocent Winery in Salem. But I am totally stymied by terms like "terroir," "varietal," and especially "Phylloxera."
In short, the last place you'd expect me to dip my bill during happy hour would be a wine bar in the Pearl. Surprise! Metrovino (1139 NW 11th Ave; 503-517-7778) is a keeper. Sadly, it's another subscriber to the brutally short happy-hour policy (4 to 6 p.m. sucks!), but its proximity to downtown's cubicle central makes it a more feasible option for sneaking out of work by five. So do it.
Right off the bat, I discovered a food-cocktail pairing that is destined for happy-hour immortality. Metrovino features a seafood chowder for $5 that is nothing short of sublime. There's no trash fish in this bowl. Chunks of tender halibut swim alongside clams, oysters, and yellowtail in a deliriously smoky broth. The origin of this heavenly flavor lies in the presence of the fatty, house-smoked bacon that harmoniously cohabits with the fish and bivalves. Was ever a marriage of sea and swine so richly rewarding? I say to thee, "Nay."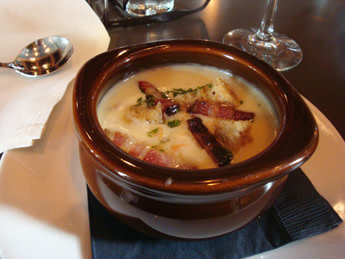 As if these beatific tastes weren't sufficient to make me flip my toupee, the Midtown, a less-civilized variation on the Manhattan, with rye whiskey, sweet vermouth, and whiskey bitters ($5), embraced the piquant seafood flavors like a long-lost brother.
I also grazed through a lovely platter of grilled asparagus and savored a subtle pinot gris from Emerson Vineyards ($6.75) that combined delicate notes of pear and cantaloupe with just a hint of sour apple.
Here's the real topper. My friend and I were so impressed we stayed for dinner, dessert, and more wine. I would sincerely advise you to show more restraint than we did. Metrovino is the sort of place where it's easy to get caught up in the moment. It's no surprise that the staff like to leave a menu at your table. It makes for exciting reading even when you're up to your elbows in oysters and fried quail. Another glass? Surely. And best of all, the waitstaff is affable, articulate, and friendly, and would sooner eat a cork than cast a snooty glance in your direction—no matter how inane your questions about terroir, varietals, and Phylloxera.