Roux
Roux Is No More
The North Portland Cajun eatery closes its doors.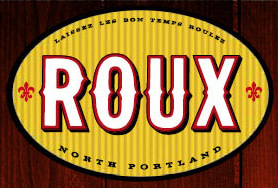 I returned from vacation this week to sad news. Byron Beck reported Thursday that Roux has closed its doors.
There was a time a few years ago when this Cajun restaurant on N Killingsworth Street was considered one of the top eateries in Portland. And even though the restaurant changed chefs several times in recent years (and my own experiences there were hit-or-miss), the weekend brunch remained a predictably good draw to folks citywide.
While it's sad to see Roux go away, there is an upside to the story. The restaurant's owner, Dwayne Beliakoff, and his partners will soon debut two new projects. The first is a restaurant called Violetta, which will anchor Park Block Five, the parking-lot-turned-public-square that's under construction directly behind Fox Tower. The second endeavor is a coffee shop in a handsome new tower at SW 12th Avenue and Washington Street, very close to Cacao, which incidentally also has excellent coffee.
While it's sad to see Roux depart, Portlanders should be excited about having two new businesses debut in downtown Portland.